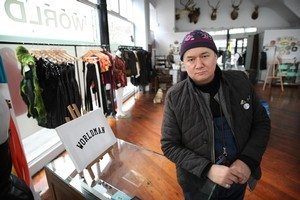 High-fashion label World is still unsure when and where it will re-open in Christchurch after its historic building on High St crumbled into a pile of rubble in February.
Designer and director Francis Hooper said everything "was still in the air" but the company was committed to Christchurch and missed its Canterbury customers.
World took up the ground and basement level of the old ANZ Bank Chambers building - a structure similar in architecture to New York's famous Flatiron building.
The other floors were luxury apartments and nobody was home when the earthquake hit.
"[The store] is still in that area that has no access," Hooper said.
"Businesses in our neighbourhood are dealing with boring issues such as insurance, leases and rent. Everyone has been very supportive and co-operative. It's just really horrible, so shocking and such an ongoing thing."
At the time of the earthquake only one person, store manager Holly White, was in the building.
White was rescued by World's neighbour Jonathan "Jono" Moran of Infinite Definite.
Hooper this week said that White had been relocated to World's store in Wellington and was doing well.
He said waiting on news from authorities and waiting to re-open a new store was the reality for Christchurch business owners now. "It's really scary." he said. "We're looking for new sites but there aren't many around. To be really honest nothing has changed over the past two months. Everything is on ice.
"We are committed to Christchurch and we will be staying here."
World has another nine stores across the country and although they are operating in a tough retail market the company is doing well.
Hooper said the earthquake had hit consumer confidence across the country and people were still shaken by what had happened in February.
"Christchurch is an important city," he said.
"It's the country's second biggest, the largest in the South Island and is more important than Wellington in terms of business. It [the earthquake] has made the country come to a stop."
Hooper said World had developed a cult brand for itself and had loyal customers that shopped there in good times and bad, but he was worried about Christchurch and touched wood it would all work out. "We really miss our Christchurch customers. And our building," he said.
Hooper said the first earthquake in September and the constant aftershocks had hurt the Christchurch business and it had been just getting back on its feet before February's quake.
"Now we have lost everything.
"It was a busy, wonderful, vibrant store. The city will never be the same again."
Hooper estimated 20 per cent of World's business would be wiped off the company's balance sheet.