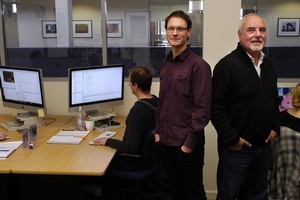 A social video game based on the world of butterflies and developed in New Zealand is spreading its wings on Facebook.
John Crawford, general manager of television production company NHNZ, and Tim Nixon, director of social gaming division Runaway Play, had an anxious few weeks as they awaited news on whether the social network giant would give its game Flutter the green light.
Crawford said Dunedin-based NHNZ had to prove its credentials to Facebook.
"It is open to anyone - to a degree. Getting Facebook onside is tough and they are notoriously difficult to get hold of. It was a nail-biting few weeks waiting for accreditation."
The accreditation, which came two weeks ago, saw Flutter users soar from 50,000 to more than 600,000.
The online game was the first game developed and released by the Runaway Play team, based in Dunedin. It involves butterflies in various settings flying around, pollinating flowers and moving through the levels of the games.
Nixon said it was in the system for months before accreditation came through, which meant Facebook put the game on its main gaming page or "dashboard".
He believed the game was approved because it exclusively used Facebook currency, told an interesting story and, thanks to some forward planning, provided a rich visual experience.
"All of that planning paid off. We used Facebook ads to target who we wanted playing the game. We had a good idea who our core demographic was and made sure those ads went exclusively to our target niche.
"Once you increase the number of people in the niche playing the game, there is viral growth when there are enough people urging their friends to play it. That's when the game really starts to fly."
Crawford said NHNZ had spent six months investigating the multi-billion dollar online gaming industry. He was sure it complemented what NHNZ did as a television production company.
The multi-media capability of devices such as iPads and mobile phones to watch TV programmes gave all organisations a chance to improve viewer experience.
The documentaries produced by NHNZ gave the company a chance to design games around television programmes.
Flutter is starting to hit its straps now and Crawford has high hopes for the next game, due to be promoted by the National Geographic channel in about two weeks.
Puzzle Planet is available on iPhones and iPads. It was launched three weeks ago and Crawford expected it to take off once advertising started around the world. Both NHNZ and National Geographic owned a share of the game.
"We are hoping for great success. We are working on getting our pitch out to potential parties."
The key to success, however, was to make money out of the game. People paid to download the games on iPad and iPhones but many Facebook games had been free.
Flutter started using Facebook currency so that game players could buy the elements they needed to keep progressing on the game.
All of that was based on lots of study, finding a market and working out a marketing plan, Crawford said.
"There was a lot of trial and error involved. The metrics showed that people buying our game were at a level of market average and the number of people coming back to play for a second and third time was well up on the market average."
NHNZ spent "several hundred thousand dollars" investigating its target market for Flutter, he said.
NHNZ had been at the forefront of high-definition TV programmes before HD televisions were available in New Zealand.
It was also the first in the world to broadcast a 3D television documentary.
- Otago Daily Times
What makes it a winner
The key to making an online game successful is attracting people who ask their friends and then start sharing and competing with each other, Runaway Play director Tim Nixon says.
For Nixon and his team, the rapid rise of Flutter meant they had to learn on their feet.
"We had to deal with a huge explosion of users and how to deal with the scale," he said.
"We had built our system to deal with the growth, but theory and practice are very different things. We really felt the brunt of it."
About 40,000 people played the game each day, and many of those players were returning.
The challenge was to keep the content interesting enough to keep them coming back, Nixon said.
"We needed incentives to get them to invite their friends - give them something to talk about or do together as part of the community."
The players were drawn back to the game by the collective nature of the game.
Several communities had been set up and were working together to help each other move up the levels of the game.
That was the main aim of social media.
"We have had phenomenal growth but it didn't come overnight. We did a lot of work and made decisions early to manage the platforms to cope with this growth."
One of the keys to getting aligned with Facebook was using the Facebook virtual currency, he said.
Facebook was keen for all games on the site to use its currency.
About US$1 billion was made from games on the Facebook site but most of the money went through third parties," Nixon said.
Facebook wanted to have more control of that revenue.
If you used your credit card once on a game, then it would be able to be used across all other games at the push of a button.
Flutter was also designed differently to most other games, which encouraged players to help only themselves, he said.
One of the biggest sellers in Flutter was buying a flower which could only be pollinated by your online "friends" in the game.
As the pollination took place, the profile picture changed.
Also, Flutter had a gifting system which cost players to give gifts to their friends.
Runaway Play wanted to avoid spamming, common in many games, Nixon said.
When players gave gifts, it often involved a mass mailout to other users which gave the sender more points but did not help the recipients.
"People are a bit less selfish in Flutter. They are helping other people. It is nice to put this detail in the game. It is a bit idealistic but in the end, it got the attention of Facebook and has proved successful."