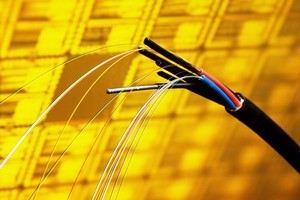 Policy makers must stimulate and direct the growth of "digital ecosystems" to improve quality of life and boost productivity, says a World Economic Forum report.
The report argues that if politicians and telecommunications companies collaborate with sectors such as health, energy, transport and education, it would lay "the groundwork for profound improvements - boosting national competitiveness, economic productivity and social inclusion".
The study says that by putting technology at the core of how these industries operate, they would reap the potential productivity and efficiency gains of high speed internet.
It comes as the Government prepares to deploy fibre internet cables around 75 per cent of New Zealand and the Auckland Council lays out its 30-year plan.
The report imagines a wider digital ecosystem where education, health, transport and energy sectors are planned around high speed internet.
It involves policy makers from industries such as health and education working with those building broadband networks and those in charge of broadband regulation.
To ensure those sectors adopt new technology, the report's authors argue politicians need to illustrate and inform them of the "extraordinary potential" of broadband.
They say policy makers need to invest in initiatives (such as cloud computing) to drive uptake on the "digital highway".
The director of the New Zealand Institute, Rick Boven, commented on the report last week, saying fast internet networks would be wasted on entertainment if more was not done to make broadband a core part of New Zealand's society and economy.
The report claimed governments also had a role to play in integrating new technologies.
This process has already begun in New Zealand, with the Government releasing a tender in December for a revamp of its $2 billion information and communications technology systems.