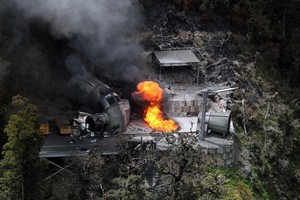 A third of the remaining staff at Pike River Mine on the West Coast are set to lose their jobs.
Most workers lost their jobs after last November's devastating explosion that killed 29 miners and contractors, with dangerous conditions inside leading to the mine being sealed.
Nine of the 28 full-time employees left were told yesterday they would be made redundant, receiver John Fisk, of PricewaterhouseCoopers, told NZPA today.
"Obviously no one likes being made redundant - but they were understanding of our situation.
"As we've said on a number of occasions, we have limited resources and we have to spend the money that we've got wisely and that just unfortunately means that costs are constantly being reviewed."
Staff had been aware of the company's situation and a review last week had led to the redundancies, he said.
"That's just a reflection of the amount of work that's needed to be done in terms of the stabilisation plan down at the mine."
Employees would finish up at the end of individual notice periods, Mr Fisk said.
Staffing at the mine would be constantly reviewed "but hopefully not in the near future though", he said.
Andrew Little, national secretary for the workers' union the Engineering, Printing and Manufacturing Union, said the redundancies were not unexpected as the staff had been employed on a month-to-month basis since December doing care and maintenance on the mine.
"Obviously just winding that workforce down pending sale or closure of it. So it's no surprise to us they'd be doing that."
Remaining staff continued working on efforts to try to stabilise the mine for re-entry.
A cal-scan laser device would be lowered into a borehole in the mine at the top of the tunnel to investigate whether a collapse had taken place by creating a picture of the area, Mr Fisk said.
Pike River Coal went into receivership in December last year.
A group of Pike River Coal contractors, owed almost $5 million, are pushing for the company to be put into liquidation so they can get paid.
However, Grey District Mayor Tony Kokshoorn has urged them to tread carefully, fearing liquidation could stop the recovery operation.
- NZPA