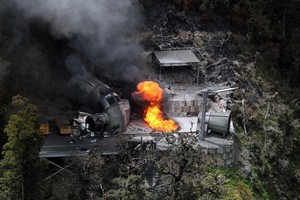 Former Pike River Coal contractors are seeking the company's liquidation as they seek to recoup around $5 million in unpaid bills.
The chairman of the 43 contractors, Peter Haddock, said the group had held back from acting against the company while the recovery of bodies was a realistic prospect.
"We believe we have explored all avenues to get paid," he told Radio New Zealand.
Haddock said the receivers, PricewaterhouseCoopers, only have obligation to secured creditors and sees liquidation as the only option.
"We believe it will actually lead to an early sale of the mine and hopefully that will speed the process up and will lead to the recovery of the bodies and repay the debt."
Haddock believes a new owner - such as Solid Energy, who have signalled interest in the mine, would be more likely to repay the contractors and reopen the mine.
He said the group was desperate for the money.
"One of the group went into receivership last week, partly as a result of not being paid."
Grey District Mayor Tony Kokshoorn said he feared moves to liquidate the company may put a stop to the recovery of bodies in the mine.
Kokshoorn told Radio NZ he's worried a forced liquidation will put the liquidators and lawyers ahead of the contractors in the queue to be paid - and lead to a halt to recovery work at the mine.
Twenty-nine men were killed following a blast at the mine, near Greymouth, on November 17 last year. Their bodies remain inside, with no one having entered the mine since the accident.
A Royal Commission into the tragedy is set to begin on May 23 in Greymouth.
PKF Corporate Recovery and Insolvency managing director Anthony
said unsecured creditors in Pike River were at the "end of the chain" and the liquidation process would not change that.
"It all depends on how much the receivers can sell the mine for. If there is a surplus, in other words if the bank is paid back 100 per cent, then you start to go down the line of preferential payments - the holiday pays and the wages outstanding to the employees. Then you get to the unsecured creditors if there is a surplus."
"It's not going to increase their chance of any payment as unsecured creditors."
"They are entitled to have a liquidator appointed, but in the scheme of things, I don't know if it will achieve a lot."