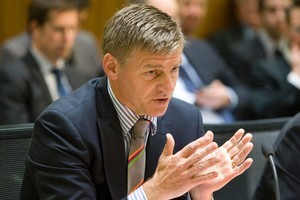 Bill English's assertion that New Zealand should "compete" rather than simply "collaborate" with Australia is mildly thrilling.
But judging by the reactions of many who heard him at the Australia New Zealand Leadership Forum - including an Australian Cabinet Minister - English's comments were the equivalent of having farted in church.
They were obviously miffed that the Finance Minister would suggest that New Zealand could compete against Australia at anything other than sport.
And that the competitive advantages English ticked off (admittedly he could have positioned his comments more tactfully) were subject to debate. Particularly his assertion that New Zealand's food production capacity might lead to more enduring terms of trade than Australia's narrow resource industry which was based on China's booming construction activity.
As several participants pointed out, Australia is a leading food exporter to China - beef, other meats and dairy products.
Putting those quibbles aside, the underlying point of contention seemed to be that Australian delegates had come to Auckland to forge new ideas on how the two countries could collaborate to mutual advantage.
That a New Zealand Cabinet Minister might challenge the very raison d'etre for their decision to cross the Tasman in the first place was vaguely insulting.
But Australian Federal Government ministers have not pussy-footed in the past when it comes to extolling the competitive virtues of their country to New Zealanders.
Former Liberal Treasurer Peter Costello famously annoyed Helen Clark when he made a deliberate pitch some years ago for highly skilled Kiwis to "come to Australia" where they could take advantage of lower Aussie tax rates and higher wages.
Singapore's Prime Minister Lee Hsien Loong made a similar pitch when here as a guest of the New Zealand government.
Neither Costello nor Lee were in any way troubled by Clark's discomfiture. They were acting in the interests of their own country and government. End of story.
English's wider point might be to challenge whether the incremental changes which form part of the single economic market process have really delivered results.
Sure, there are now a host of commercial changes to company procedures and securities laws - but arguably they are at the margins. They are changes that could have been made years ago if the business harmonisation drive that Sir Geoffrey Palmer started in the late 1980s had been carried through with alacrity.
Big policy changes that might cost Canberra - such as mutual recognition of dividends or franking credits - have not been addressed. Portability of superannuation between the two nations is still outstanding.
So, in this environment for the Finance Minister - surely stating the bleeding obvious - to say he will spruik New Zealand's lower wage rates as one of a number of incentives to get more Australian capital invested here is hardly revolutionary.
There are other factors which could give New Zealand an edge in attracting investment from companies which are looking at investing in either Australia or New Zealand.
English pointed to such factors as tax (New Zealand finally has a competitive company regime that is better than Australia's) regulatory structure, the exchange rate, the political framework and certainty over things such as climate change policy.
He should have tossed in New Zealand's free trade deal with China.
Australia's own free trade negotiations have meandered on interminably - probably not helped by injudicious comments by former Australian Prime Minister (now Foreign Minister) Kevin Rudd who was widely reported to have slated the Chinese as "rat-f*****s") after the failed Copenhagen climate summit.
But it is quite extraordinary that New Zealand has not made a concerted pitch to get more Australian companies to invest here to use our "conduit" to China - particularly when it comes to the various services that were liberalised in our free market agreement. In Sydney recently, ANZ chief executive Mike Smith said he would be very quick to utilise New Zealand's FTA if financial services and banking were made more favourable for New Zealand's companies.
Then there is Prime Minister John Key's plan for an Asia Pacific financial services hub. Again New Zealand's lower wages are a selling point.
Or, the ability to promote Auckland as a transport hub between China and Latin America; rather than higher priced Australian ports or airports.
Once English gets his Budget out of the way he should form a "prospectus for New Zealand" that lays out this country's attractions.
Some budget towards a fully fledged Invest New Zealand entity (Investment New Zealand is now tucked within NZTE) that could strongly promote New Zealand's attractions to Australian companies is long overdue.
Why not make a targeted pitch to particular firms to increase their footprint here and either develop products or services to export back to Australia - or utilise our favourable FTA to penetrate the Chinese market?
Frankly it is in Australia's interests - particularly those Australian businesses that own a swag of NZ's prime assets including media companies and banks - that New Zealand does become a much more thriving economy.
English deserves a cheer for coming out of the blocks.