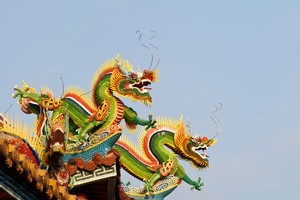 A survey has found that recession and a run of negative events last year have made New Zealanders feel slightly cooler towards Asia.
The survey by the Asia-NZ Foundation asked 1000 people to rate their feelings towards people from Japan, India and China from zero, meaning "very cold and unfavourable", to 100, meaning "very warm and favourable".
Most people gave answers towards the warm end of the scale, but their average ratings dropped from 76 in 2009 to 73 last year for Japan, from 72 to 68 for India and from 71 to 68 for China.
Foundation research director Andrew Butcher said the cooling reflected similar trends in other countries hit by the global recession.
"We have seen this in previous years when there have been economic downturns in New Zealand - immigrants, in particular Asian immigrants, tend to bear the brunt of the blame," he said.
The survey was also done at a time, last September, when there were negative media reports about problems at the Commonwealth Games in India, attempts by Chinese interests to buy the 16 Crafar family dairy farms, and the trial of Kiwi anti-whaling activist Pete Bethune in Japan.
It found that the proportion of Kiwis feeling that immigration from Asia would have a "positive impact in the next 10 to 20 years" fell below half for the first time since the annual survey began in 2007, dropping from 55 per cent in 2009 to 49 per cent last year.
Those who felt Asian immigrants "bring a valuable cultural diversity to New Zealand" fell from 78 per cent to 75 per cent.
Surprisingly, those who did not believe "Asian immigrants take jobs away from New Zealanders" increased from 54 per cent to 57 per cent. But those who agreed increased from 22 per cent to 29 per cent.
Despite all these worries, New Zealanders still felt warmer than Australians do towards Asians. A 2009 survey asking Australians to rate the big three Asian countries on the same "warmth" scale as the Asia-NZ survey found average ratings of only 66 for Japan, 56 for India and 53 for China.
"Australians' cooler feelings toward people from Asia may stem from Australian media and political attention on immigration, asylum seekers and foreign investment," the foundation said.
The latest survey included a new question to gauge Kiwis' knowledge about Asia. Almost three-quarters (72 per cent) answered correctly that China was New Zealand's biggest Asian trading partner, but fewer than half (39 per cent) knew China provided the most Asian immigrants to NZ in the past five years, or that French was the most common foreign language taught in schools (45 per cent).
Dr Butcher said the questions were chosen because "we were making a point".
"It seems to us that you want to get some of the basic knowledge stuff right as a first step in realising the importance of Asia to New Zealand," he said.