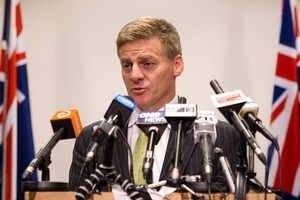 Credit rating companies are awaiting the May budget before deciding whether to lower the nation's credit rating, says Finance Minister Bill English.
He told reporters in Wellington the rating agencies are concerned with the nation's rising public debt and its vulnerability to external shocks.
Standard & Poor's put New Zealand's AA+/A-1+ foreign currency rating on negative outlook in November.
"We're confident that we're going to be doing enough in this budget to keep the government on track to surplus over the next 3 or 4 years, (and) to stop the fast rise in public debt," English said.
"I know those are issues that credit agencies are concerned about."
This is English's second test with the rating agencies after his 2009 budget prompted S&P to affirm the nation's AA+ foreign currency rating and stable outlook.
The government scrap promised tax cuts, suspended contributions to partially pre-funding superannuation, and putting a spending cap in place.

Last month, the government brought forward its bond sale programme by $1.5 billion to front-load the impact of the February earthquake in Christchurch, which caused as much as $15 billion and killed more than 170 people.
Underlying expenses, including growing finance costs, are expected to grow, and English said it was time for the government to follow private households' lead, and cut back on spending.
The increased debt track has the government books facing a cash deficit as bid as 9 per cent of GDP, and English signalled a tighter rein on future spending.
English told a Wellington business audience the economy is heading back to normality after its worst recession in almost two decades, and it's time to remove the fiscal stimulus.
There will only be some $1 billion of new spending this year, primarily in health and education, and that will be "substantially offset" by cuts in other, lower priority, areas.