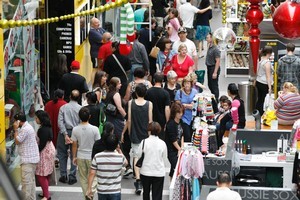 New Zealanders spent more on new clothes and appliances and rising petrol prices last month, according to credit and debit card figures.
The seasonally adjusted value of spending on credit and debit cards rose 0.5 per cent to $5.2 billion last month, according to Statistics New Zealand, as people spent more at the fuel pumps and took advantage of seemingly endless sales from struggling retailers.
That's the third monthly gain across all transactions.
Spending on durable items such as furniture, hardware and appliances gained 2.5 per cent to $972 million, while clothing rose 2.3 per cent to $260 million and petrol was up 2.1 per cent to $611 million.
Spending on services fell 1.3 per cent to $157 million, while non-retail dropped 1 per cent to $1.1 billion.
Spending on consumables, vehicles and hospitality edged lower to $1.4 billion, $101 million and $567 million respectively.
ASB economist Christina Leung much of the lift will have come from Christchurch families replacing clothing and appliances in the wake of the February earthquake, which killed at least 166 people and caused as much as $15 billion of damage.
"There have been anecdotes of a surge in TV sales in the region as households rush out to buy a TV before they have received their insurance payout," Leung said.
"The continued rise in petrol prices is likely encouraging consumers to change their behaviour, such as taking public transport instead.
The data comes a day after retail loyalty company Fly Buys scotched suggestions more people were buying their goods online, with 72 per cent of some 890 people polled saying they make their purchases in a store.
"The majority of kiwis are inclined to shop around, especially for higher priced items to benefit from sales advice," Fly Buys chief executive Lance Walker said.
Retailers have struggled to gain traction with consumers as the stagnant economic recovery and persistently high level of unemployment keeps pressure on households to repay their debt rather than ramp up spending.