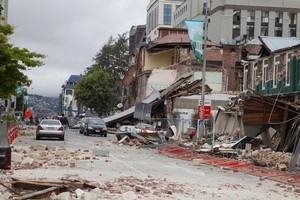 Christchurch's earthquake-battered central business community finally has hope on the horizon with a plan to reopen a signature shopping precinct in the CBD in time for the city's festival season.
Under the project, Re:Start 29.10.11, it is planned to open a cordoned-off area of central Christchurch - based around shopping hub Cashel Mall and part of the popular Oxford Tce hospitality area - on October 29.
Businesses will reopen in existing buildings or relocatable "expo style" premises ahead of November's New Zealand Cup and Show Week and the crucial Christmas trading period.
Christchurch Mayor Bob Parker said the area bounded by Oxford Tce, Hereford St, Colombo St and Lichfield St would be a retail "bridgehead", from which other areas of the CBD could be "pushed into" and opened over time.
He hopes to be able to present a draft plan to the Government at the reopening that sets out the rebuilding of the whole central city area, to begin by the end of the year.
News of the reopening was the "first really bright ray of sunshine for central city businesses in particular", Mr Parker said. "I can't tell you what an important moment this is for a city which has taken many devastating blows over the last weeks and months. It is our heartfelt desire that we can roll back the cordons in all of the other areas of the city progressively and quickly into the future. We would aim to have the city in the state where we could begin [rebuilding] work by the end of this year. Which should mean that the city will be open at that time."
Central City Property Owners and Business Group chairman John Suckling said the area to reopen in October was able to because of less risk of tall buildings falling in the vicinity.
If the target of opening in October was not met, it would not be until the following winter that businesses in the CBD could get going again. "And that of course, as you know, is an incredibly long way away. Particularly when a lot of businesses who have been in the central city have already relocated in the suburbs," Mr Suckling said.
"We see this as an opportunity for people ... whose buildings don't allow them to trade to be able to get in there. It's going to come down in the end to just how many people want to relocate, and how many are going to survive the tough times that are ahead."
Mr Suckling said he felt Christchurch people would respond to an attempt to get the CBD going again.