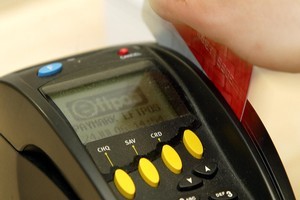 Businesses frustrated at the length of time taken to process new chip and pin credit cards are being urged to ditch dial-up links and switch to a broadband connection in a bid to counter the queues.
Rising fraud and anticipated demand from Rugby World Cup visitors has prompted banks to begin issuing chip and pin cards, which are more secure and cannot be copied as easily as magnetic strip cards.
But the upgrade has prompted complaints from businesses about the length of time customers are now forced to wait for transactions to be processed.
Simon Gamble of network management company Mako Networks said the vast majority of New Zealand businesses who remained on dial up, were probably not aware their connection could be slowing down transaction times.
The new cards transmit much more information than previously meaning they are more secure, but the data takes longer to move over a dial up connection.
"What most people find is if they use a chip and pin card at a small dairy it takes forever, whereas if they use the same card at a supermarket or Bunnings or Mitre 10 that are not on dial up it's fast again. That's the real world example."
Gamble said banks had expressed surprise and disappointment at the few businesses who were on broadband, but he suspected a lack of education could be at the heart of the issue.
"If you are specialising in selling flowers or tyres, IT is something you use to do your job, rather than something you are interested in," he said.
New Zealanders are the highest users of Eftpos per capita in the world, with some retailers taking 80 to 90 per cent of the day's transactions through the terminal.
Gamble said the move to the new chip and pin cards was smart, but was not necessarily making businesses compliant with security standards.
The PCI Security Standards Council introduced a set of rules called the Payment Card Industry Data Security Standards (PCIDSS) in 2006 to reduce risk and keep card data safe - but few businesses were adhering to those rules, exposing them to the risk of fraud, he said.

Gamble said some businesses weren't aware that many of the banks had changed their terms of trade to say that they will not longer carry the cost if card data was stolen from a business.
Mako manufactures a PCIDSS certified network management system that allows small to medium sized businesses to connect to a modem or router managed by a secure website, which takes care of their PCDISS security requirements.
"My feeling is NZ should be presenting it self not only as a clean green country, but a safe place to do business."
"So I think there should also be a focus on making sure businesses are PCIDSS complaint at the same time."