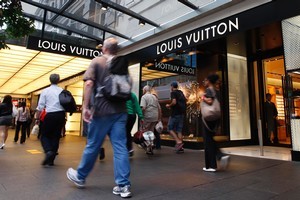 Businesses could miss out on lucrative trade during this year's Rugby World Cup unless they up their standards in the luxury goods market, a researcher into luxury consumption has warned.
Fashion, food and accommodation providers are best positioned to cash in on the opportunities that will be presented by wealthy rugby fans during the six-week tournament, University of Auckland Business School PhD student Yuri Seo said.
However, those wanting to cater to that market are being urged to up their game if they hope to succeed.
Seo, who is researching luxury spending and the consumers behind it, said New Zealand's luxury market was growing and had potential, but the standard at times lagged behind markets offshore.
"New Zealand's culture has, in the past, made luxury buying hard as people strived to be more inconspicuous.
"These days, with exposure to the world, New Zealand has a luxury market that's growing, but people who are consumers of luxury have high standards and we need to be ready for them."
Seo said it was important to understand the range of perceptions in luxury buying and to offer something unique.
"In the end, luxury consumers are looking for an experience, and New Zealand is a good place to get that," he said.
Luxury overseas brands Louis Vuitton and Gucci have increased their presence in New Zealand, with flagship stores on Auckland's Queen St.
Marketing and customer experience were key to helping businesses lure customers looking for luxury goods, Seo said.
"The personal experience is quite important - customer service is one area where the consumers of luxury items are looking at in their evaluation of luxury. It has to be personalised."
A handful of Kiwi brands, including fashion houses Trelise Cooper, Karen Walker and Zambesi have successfully offered luxury products to an international market, but the trick remained to limit supplies in order to protect exclusivity, he said.
"Our market is very young, but it has potential," he said.
New Zealand had its own style and a lot of Kiwi brands were relatively new which made them unique and attractive to overseas consumers, Seo said.
"With the Rugby World Cup just months away, New Zealand businesses have an opportunity to offer something very different to luxury consumers," he said.