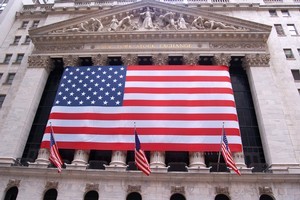 Equities in Europe and on Wall Street advanced amid optimism about a recovery in the US labour market.
Companies in the US added more workers in March, with employment increasing by 201,000 workers this month, following a revised 208,000 gain in February, according to figures from ADP Employer Services.
The data cemented the generally more optimistic tone among equity investors this week. In afternoon trading on Wall Street, the Dow Jones Industrial Average gained 0.79 per cent, the Standard & Poor's 500 Index rose 0.86 per cent and the Nasdaq Composite Index advanced 0.74 per cent.
"It does seem as if markets are now keen to try and turn the page," Ben Potter, analyst at IG Markets, told Reuters.
Investors are now eyeing Friday's US Labor Department report, which is expected to show that businesses added 210,000 jobs in March and that the jobless rate held at 8.9 per cent.
"Numbers like the ADP report is what we need for the market to break out of its current range, hopefully it continues on Friday," Alan Lancz, president, Alan B. Lancz & Associates, an investment advisory firm based in Toledo, Ohio, told Reuters.
Today also brought more M&A action as Canadian drugmaker Valeant Pharmaceuticals International made an unsolicited bid to buy Cephalon Inc for US$5.7 billion.
Cephalon's stock soared 28 per cent and Valeant's US-listed shares jumped 10 per cent.
In Europe, the Stoxx 600 Index gained 0.7 per cent, climbing for a sixth straight session.
The euro rose against the greenback, recovering from earlier losses, after European Central Bank executive board member Lorenzo Bini Smaghi said the bank's policy was to gradually raise interest rates.
The euro last traded at US$1.4138, 0.2 per cent higher on the day. Earlier it dropped as low as US$1.4052.
The Japanese yen weakened to the lowest level in 10 months against the euro, amid expectations interest rates in the euro zone would rise before those in Japan.
The yen declined against the euro to 117.28 yen. Against the US dollar, the yen weakened to 83.19 yen.
Oil traded lower, with brent crude down 29 cents at US$114.87 a barrel as of 1251 GMT.
Top world oil exporter Saudi Arabia and other Gulf countries have boosted output in March, helping to make up for supply lost due to violence in Libya, a Reuters survey found on Wednesday.
Supply from all 12 members of Opec has averaged 29.13 million barrels per day this month, down from 29.43 million barrels per day in February, the Reuters survey of oil companies, Opec officials and analysts found.
Opec members including Saudi Arabia, the United Arab Emirates and Kuwait have boosted production. Supply fell in Libya and Nigeria. Analysts expected Saudi output to rise even higher than March's rate of 9 million bpd later in the year.
"I can see Saudi Arabia going higher in later months especially if they succeed in marketing their new lighter, sweeter grades," Paul Tossetti, senior energy adviser at PFC Energy, told Reuters.
Gold rose, though gave up some of its gains earlier in the session.
Spot gold rose 0.2 per cent to US$1,418.65 an ounce by midday EDT. The precious metal had risen as high as US$1,430 earlier today.