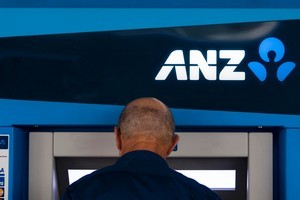 ANZ chief executive Mike Smith has signalled he would like to see both ANZ and National Bank customers able to use the banks as one bank because operating as two separate banks is inefficient.
Smith's comments come as ANZ reviews its use of the National brand, which includes the black horse and green colours still owned by Lloyds TSB despite the $5.71 billion sale of National to ANZ in 2003.
NZ chief executive David Hisco confirmed earlier this month that ANZ aimed to complete a review of its use of the National brand in New Zealand by the middle of this year, although he rejected outright a report that ANZ would close National's branches.
ANZ's rights to use the Lloyds black horse on a green and white background had been due to run out at the end of last year. However, ANZ renewed the agreement until the end of 2014 last year prior to Hisco replacing Jenny Fagg as ANZ's New Zealand chief executive.
Smith told Interest.co.nz that ANZ had to run more efficiently in New Zealand as one bank, rather than two.
ANZ bought National 8 years ago, but kept both brands and aimed to 'run two restaurants from the same kitchen', sharing back office services but having two sets of branches and front office staff.
"We've got to run it far more efficiently. We've got two banks where we should have one bank which both sets of customers can use. At the moment we have two of everything, so that is clearly inefficient," Smith said.
ANZ announced last November it planned to shut down ANZ's IT platform in New Zealand and adopt the National Bank's Systematics core banking system by later this year at a cost of $220 million.
ANZ also last month announced a management restructure in New Zealand to pull together its commercial and rural divisions into one operation and shed up to 15 management roles and 30 back office roles. The rural division had been run as a National bank arm.
Smith said ANZ was absolutely committed to New Zealand.
"It's a business we want to grow. It's one of our major domestic franchises and we don't take that lightly, and we would like to see growth coming out of New Zealand," he said.
Asked if ANZ would continue with two brands or with one, Smith said: "The branding is on the table and we're now discussing it, and we have to come to a decision fairly quickly because the brand we have, which is the horse, is not ours for very long. That belongs to Lloyds Bank, which is owned by the British government."
At an ANZ strategy session for analysts on ANZ's domestic operations in Australia, ANZ's Australia chief executive Philip Chronican indicated ANZ preferred a single brand strategy in Australia.
Chronican, a New Zealander and a former 27 year banking veteran with Westpac, joined ANZ in November 2009.
Asked by analysts whether ANZ would copy the strategies adopted in Australia by National Australia Bank and Westpac of using discount online or regional brands that were different from the national brand, Chronican was sceptical and referred to the issues ANZ was having in New Zealand.
"The frustration we've had there is we haven't clearly delineated where one brand stands versus the other," he said, referring to ANZ and National.
Chronican said ANZ was not doing any strategy work about running separate brands in Australia.
Growth in New Zealand and Australia was going to be quite low and lower than before the Global Financial Crisis, he said.
"Therefore the upside is going to come from those economies in Asia. Our strategy is about linking those opportunities together. It's the connectivity we can create," he said.
Smith said ANZ could help smaller businesses work with those in Asia in a variety of ways.
"Say you wanted to set up a manufacturing business in Cambodia or in Vietnam because that was going to be much cheaper. We can finance that because we can be both ends. We look after you in New Zealand and we can look after you in Cambodia."
Smith said ANZ also wanted to improve banking links between Australia and New Zealand.
"That transtasman link is not as smooth a link as it should have been. It is crazy that if you have an account in New Zealand at a branch in Auckland and you want to set up an account in Melbourne, you've got to go through a massive compliance process. If we know you in Auckland why can't we just do it automatically?"