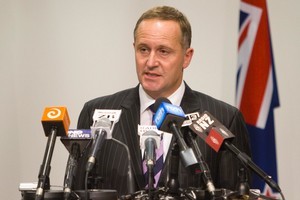 Prime Minister John Key today announced extended assistance for Christchurch businesses and workers affected by last month's massive earthquake.
Both the Earthquake Support Subsidy for employers and the Job Loss Cover for workers will be extended until April 18, followed by a second round of assistance with tighter application criteria.
Mr Key said Cabinet decided to extend support by two weeks to give "employers and employees more time to consider their options going forward".
Businesses seeking further support under the Earthquake Support Subsidy need to apply for the extension by March 30.
Only those already receiving assistance are eligible to apply for the second round by April 7.
Employers would have to demonstrate their business was unable to operate because of physical barriers caused by the earthquake, and demonstrate ongoing viability.
Mr Key said businesses that did not meet the new criteria but had a strong case for additional support could be considered on a case-by-case basis.
Businesses that qualified for the second round would receive payments at gradually reducing rates each fortnight over a six-week period.
For the first fortnight, the subsidy would stand at the current rate of $500 gross per week for full-time employees, and $300 for part-time employees.
It would then reduce to $375 and $225 respectively for the second fortnight, and $250 and $150 for the third fortnight.
A total of $153 million has been spent on the Earthquake Support Package, and the extension announced today was expected to add another $90.6 million.
"I think everyone acknowledges we can't go on forever with the packages we've got," Mr Key said.
"But we also didn't want to leave people high and dry and I think we got the balance right here."
The Job Loss Cover scheme would continue, with full-time employees receiving $400 per week and part-time workers $250 per week until April 18.
They would then need to apply for an Individual Support Payment, which would be a top-up in addition to the unemployment benefit.
A single person would receive $50, a couple without children $80, plus $10 for each child up to a maximum of $110 per week.
Currently 6700 people were receiving Job Loss Cover support.
Mr Key said the Government was not ruling out having other initiatives, particularly on the business recovery front but support was being phased out.
Council of Trade Unions secretary Peter Conway said there were huge risks in the scaled down support, including having employers lay off workers.
"We can understand that the Government has already spent a lot of money on this support but that is because the need is so great," Mr Conway said.
"Although some employers will now be clear on when they can be viable and to what extent, forcing employers into premature decisions will simply mean redundancies."
Mr Conway asked the Government extend the existing package for another six weeks, and only then consider other options.
- NZPA