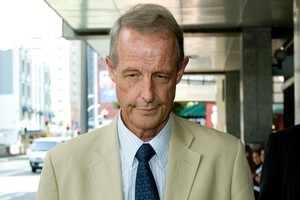 Retaining investors for Nathans Finance was as important as sourcing new investors in 2006, a court heard this morning.
The former Nathans directors are on trial for six alleged breaches of the Securities Act. The case started on Monday.
The directors Mervyn Doolan, Donald Young and Kenneth (Roger) Moses pleaded not guilty to six alleged breaches of the Securities Act on Monday.
A fourth director, John Hotchin, younger brother to Hanover's Mark Hotchin, pleaded guilty to similar charges in February and was sentenced earlier this month.
Marion Short gave evidence yesterday and today on her role as sales and marketing co-ordinator for VTL - Nathans parent company - and her work on Nathans.
Short said Nathans was retaining just over 70 per cent of investors in 2006, (the company collapsed in 2007), which she said was good for the climate at the time.
Short said retention rates had dropped below 50 per cent for many finance companies and they were struggling to attract new investors.
Short said she was happy with the some 70 per cent, however the directors - Doolan, Moses and Young - wanted a 75 per cent target retention rate.
"My directors weren't as happy as me."
When Nathans collapsed it owed $174 million to some 7000 mum and dad investors.
Nathans was mainly set up as a funding vehicle for VTL, and its associated entities that purchased vending franchises from VTL.
VTL bought vending machines and installed its own software into the machines.
The group operated in the United States, Europe, Australia and New Zealand.
The directors are defending allegations that the statements they issued on related party lending (to VTL), the quality of its loan book, its loan management practices and its management of liquidity were untrue.
The commission claims the directors made untrue statements in the company's registered prospectus and investment statement of December 13, 2006.
It further alleges the directors made untrue statements when they signed a prospectus extension certificate on March 30, 2007.