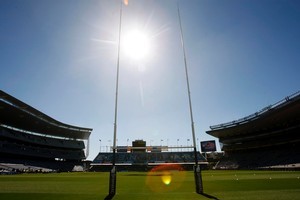 Auckland ratepayers are facing a multimillion-dollar bill for gaining two quarter-final Rugby World Cup matches at Eden Park and a likely pool match from quake-damaged AMI Stadium in Christchurch.
Council officers are being cagey about the extra costs, but one source said it would cost up to $1 million for each additional match in Auckland.
Last week, Eden Park was named as the new venue for the quarter-finals that were to have been played in Christchurch on October 8 and 9, and the high-profile pool match between Australia and Italy looks likely to be played at North Harbour Stadium.
The council executive leading Auckland's preparations for the Cup, Rachael Dacy, said any additional costs were expected to be "moderate".
"We are working through ... who will cover those costs. Any additional costs to the region will go through the appropriate political channels for approval."
Ratepayers are already contributing $100 million for the Cup, including $65 million towards upgrading Eden Park and surrounding infrastructure and $35 million on running costs, such as traffic management and fan zones.
One local politician, who did not want to be named, said the extra costs mostly related to traffic management and security for each game.
The politician questioned why ratepayers should have to pay the extra costs when the sale of 30,000 extra tickets as a result of moving the quarter-finals from AMI Stadium to Eden Park would be a financial bonanza for Rugby New Zealand 2011.
A spokesman for the Cup organisers said Rugby NZ 2011 was not expecting any net financial gain from the reallocation of matches.
While moving the quarter-finals from Christchurch to Eden Park would result in more ticket sales, there would be fewer ticket sales from moving the five pool matches to smaller venues, the spokesman said.
The extra costs for the Cup come as the council grapples with a proposed 4.9 per cent rates rise.
Mayor Len Brown, in whose name the budget is prepared, faces opposition from eight of the 20 councillors for not aiming at a 3.9 per cent rise and criticism for not identifying $60 million needed in savings to hold rate increases to 4.9. Any additional Cup costs make his job more difficult.