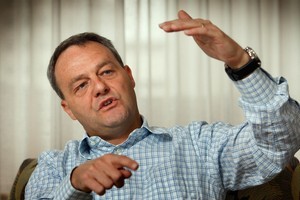 Jan Zijderveld has just landed one of the toughest jobs at consumer goods giant Unilever - expanding the firm's business in an economically sluggish Europe.
The Netherlands-born, Kiwi-educated 46-year-old - who was in Auckland yesterday - was appointed the company's president of Western Europe last month.
New York and London-listed Unilever is the world's second-largest consumer products maker, after Procter & Gamble, and posted a full-year net profit of €4.6 billion ($8.9 billion) on sales of €44.3 billion in 2010.
Its brands include Lipton tea, Magnum icecream, Vaseline and Persil soap powder.
Zijderveld, who joined Unilever in a New Zealand-based marketing role in 1988, said Western Europe was the most profitable part of the group, with the highest margins.
But it is also growing much slower than other parts of the business in Asia, Latin America, the Middle East and Africa.
"So you can imagine my brief," said Zijderveld, who came to New Zealand as a teenager and attended Kerikeri High School, before completing a Bachelor of Management at the University of Waikato. "Europe is tough because the economies are not growing."
At the same time, Unilever's raw material costs for products such as vegetable, palm and crude oil - used to make plastic packaging - had increased dramatically due to this year's spike in global commodity prices, he said.
To deal with these challenges, Zijderveld has developed what he calls his "new recipe" for the business in Western Europe.
Before assuming his new role, he was Unilever's executive vice-president for Southeast Asia and Australasia.
He said he would bring some of the lessons he learned running the firm in that part of the world to Europe - such as selling shampoo in small, affordable packages.
"In Asia, 80 per cent of our shampoo is sold in sachets for about NZ5c each, because people can't afford to buy whole bottles."
Zijderveld said he wanted to introduce €1 packets to southern Europe, where in countries like Spain some family budgets were getting as tight as those in Southeast Asian nations.
At the other end of the market, Zijderveld said he was looking at ways Unilever could increase its range of high-end products on offer in Europe.
Unilever's recent €1.5 billion acquisition of the personal care business of American consumer goods firm Sara Lee, as well as its US$3.7 billion ($5 billion) purchase of US shampoo company Alberto Culver, would give plenty of scope for offering more premium products.
Zijderveld said Unilever - which purchased 4 per cent of the world's tomatoes, 12 per cent of the global tea supply and 3 per cent of all palm oil - was making a push for sustainability at the same time as trying to double sales.
"We've made a commitment that we will buy all our natural ingredients from sustainable sources by 2020 and half by 2015."