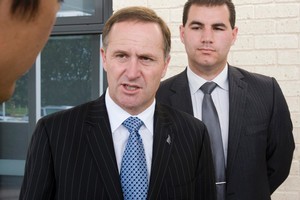 Some government programmes will be axed as budget spending is cut to pay for rebuilding Christchurch, Prime Minister John Key says.
He confirmed today that most, if not all, of the $800 million "new money" spending originally planned for the May budget would go.
There would still be about $600m to $800m additional funding that may be injected into health and education, but the "vast bulk of that, if not all" will come from reprioritising funds from other areas.
"That's one proposition we are looking at," Mr Key said.
"Some programmes will cease," he said. "No one is arguing this is easy.
"Government is all about the allocation of resources and at the moment the allocation that is required is Christchurch, health and education.
"On that basis, some other expenditure won't be undertaken."
When asked how the public could be confident that the Government wasn't slashing and burning by potentially cutting $800m from the economy, Mr Key said: "That's called a general election.
"We intend to put together a set of accounts ... in the end they'll judge us on that."
Mr Key said the level of benefits and superannuation were still off the table, as was a land tax and a capital gains tax.
It was inevitable that the EQC levy would rise, he said.
Mr Key said it was too simplistic to just stop infrastructure projects in other parts of the country and focus on Christchurch, because it could lead to those local economies grinding to a halt.
The Government did not want to burden Auckland, or Wellington, with an "infrastructure time-bomb".
The Public Service Association (PSA) said cutting $800 million of new spending would further strain services which were already under "massive pressure" because of the Canterbury earthquake, and would cost the country socially and economically.
"The Government is choosing to squeeze departments and services that have already been shaved to the bone, rather than considering other options like imposing a levy and further borrowing to help fund the Canterbury rebuild," PSA national secretary Richard Wagstaff said.
"The Government is leading the recession with its blunt cuts to public services...and when it comes to health and education, $800 million doesn't go near what these areas actually need."
Labour Party leader Phil Goff said pulling $800m out of the budget would be at the expense of services used by middle and low-income families.
"It's not a choice between slashing and burning and borrowing, it's also about getting the economy going again, having a plan, and National hasn't got a plan," Mr Goff said.
"Clearly, you can borrow to meet a cost that will need to be spread over a period of years - and that's the situation with the earthquake."
Mr Goff said Labour would set a list of priorities going into the election.
"We will do what is essential first and what is desirable when we can find the funds," he said.