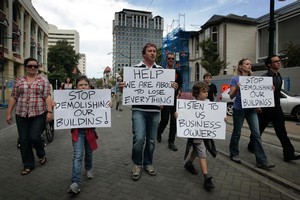 Protests from angry Christchurch business owners locked out of the damaged CBD have intensified today, with police physically intervening when several protesters went inside the cordon.
Around 100 business owners gathered outside Civil Defence HQ this afternoon and demanded either Civil Defence head John Hamilton or Earthquake Recovery Minister Gerry Brownlee come out and talk to them.
They are worried about the state of their businesses inside the red zone, and say they have not been allowed in to collect critical records and basic tools so they can carry on working outside the cordon.
A nzherald.co.nz video reporter at the scene said several protesters ran past security inside the cordoned off area this afternoon. While some came out peacefully, others were grabbed by police and physically removed.
One woman said it had been four weeks since the February earthquake, and her husband's tools are still inside the cordon.
"We're hearing terrible stories of theft and looting and we don't understand why the crooks can get in and the business people can't," she said.
"We really want to stop the demolition companies from demolishing buildings without anyone's consent...That's why there are many frustrated people."
Christchurch businessman Kurt Langer, who has a photography studio in Cashel Mall, said protesters, mainly people who owned buildings or leased buildings in the area, felt out of the loop and were concerned their buildings would be demolished without any consultation.
"We are all going bankrupt. We are about to lose everything and they will not tell us anything. It's a complete police state," he told NZPA.
He said protesters held signs with messages including "stop the demolition", "let us retrieve our property", and "stop ruining our lives".
Mr Langer said a structural engineer had told him his building could be made safe enough to enter.
"I could retrieve at least half a million dollars of irreplaceable goods within half an hour," he said.
He said protesters only walked in the safe area of the cordon and he felt no concern for his safety.
However, Civil Defence said the cordon was in place for a reason.
"They're lucky there wasn't an aftershock because it would have been highly dangerous to be in the cordoned area," a spokesman told NZPA.
"We understand their frustrations but we do not condone entering a cordoned area. Our number one priority is public safety."
Meanwhile, structural engineers earlier checked buildings in Christchurch's CBD for further damage after a large aftershock struck the region last night.
However, the magnitude 5.1 quake had not caused any significant damage, Civil Defence said.
Engineers checked eight buildings throughout the CBD, which varied in height, width and construction.
The sample gave engineers a good indication of the structural behaviour of other buildings in the area, which had a similar structure.
- NZPA, Newstalk ZB, NZ Herald staff