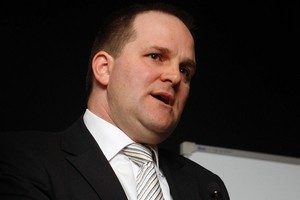 Commerce Minister Simon Power describes his rewrite of New Zealand's investment laws as a once-in-a-generation opportunity. Certainly, its importance should not be underestimated, informed as it is by the global financial crisis and the shortcomings revealed by the failure of so many finance companies.
Mr Power acknowledges he must get the reform right if the trust of mum-and-dad investors, especially, in capital markets is to be rebuilt. An important part of that process will be highlighting a much-improved investment landscape. Perhaps it was for this reason that he referred to the possibility of celebrities being liable to investors for untrue statements they make when endorsing products.
This was not a proposal highlighted by the Capital Market Development Taskforce, the report of which has provided the basis of most of the Government's main decisions. There is reason enough for that. The taskforce identified a large number of obvious problems, many of which related to disclosure and transparency.
But its main recommendation for tackling this was for product disclosure to be simplified and standardised so investors had a clearer knowledge of what they were putting their money into. This, done properly, should be sufficient to enable the average investor to see through the blandishments of product advertising.
Mr Power did not name names, but his targets were clear enough. There was All Black great Sir Colin Meads' endorsement of Provincial Finance as "solid as". And the minister gave a thinly veiled reference to former TV newsreader Richard Long's promotion of Hanover Finance when he suggested "the person may have been used because their primary employment created a sense of integrity". He might have also noted that the reputations of the two men have been considerably tarnished by the subsequent failures of the companies they endorsed.
Mr Power is suggesting that is not enough. There might also be a stiff penalty, possibly through celebrities being liable to investors for untrue statements in the same way that investment "experts" are liable. This creates ticklish issues for the drafting of the legislation. There is surely a world of difference between people who promote themselves as "experts" in investing and celebrities who, as the vast majority of people recognise, are being paid to promote a product.
As well, celebrities are used across virtually the whole spectrum of advertising. If they are liable for "untrue statements" in relation to finance companies, would that also mean the Hollywood actress who promotes an anti-ageing cream will also be liable when, inevitably, the product does not hold back the ravages of time? Most people are, rightly, sceptical about celebrities promoting products. They reason, quite accurately, that the subject of their endorsement is usually outside their area of expertise. Is there any reason the same scepticism should not have been brought to the promotion of finance companies?
Most fundamentally, the issue of celebrity endorsement raised by Mr Power is peripheral to the main thrust of the reform. Raising investment literacy by making the subject part of the school curriculum, another of the Capital Market Development Taskforce's recommendations, might attract fewer headlines but it would have more substance. So, particularly, would investment documents written succinctly and in plain English, rather than a mixture of legalese and gibberish. These, rather than tilting at windmills, should be Mr Power's focus. He has a big enough job on his hands.