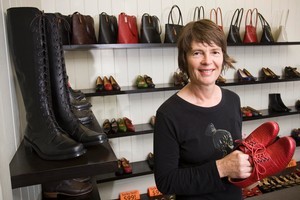 For a certain breed of expat women, when they come back home to visit, they will always make a beeline for a Minnie Cooper shop to pick up a new pair of shoes or a bag.
And then there are the locals who frequent the Auckland and Wellington stores for that quintessential Minnie Cooper look.
Sandy Cooper, the woman behind the brand - she was driving in Minnie St in Auckland when she was setting the business up and thought it went well with Cooper - says her customers don't feel the need to look the same as everybody else.
"They know what they want.
"What I like about them is they really seem like people who are about living life, they are not about being a slave to something," says Cooper, who works in the Auckland shop on Sundays. Customers' ages range from 20s to 80s.
Her Ola strapped sandals have been worn by these women since she first began business in 1989 and they are still buying them.
Her styles are classic, with a twist, in a select palette of black, dark red, green and blue, with sensible heels.
"For me, I do like these really plain, simple colours."
Cooper has included bags in the collection for 15 years. The best known is the small black bag worn across the body with an orange underlaid circle.
Everything about Minnie Cooper design is about simplicity and function, she says. "There's nothing I hate more than a bag you can't get into."
The business owner is preparing for another tough year - she thinks this one will be particularly difficult after the Christchurch quake.
There is a fervent thank you on her website to customers because the vast bulk of her range is made in New Zealand and keeping New Zealanders in jobs.
Most of the leather is from Tasman Tanning, some is brought in from Spain and Italy. The knitwear range which she and her sister Mary design is made overseas.
"What's going to be the Crown Lynn of the future? It's not going to exist because of globalisation," she says.
For the past couple of years, Cooper has had her own factory, inheriting some machines and staff from David Elman. Now operating under her own steam, she feels the pressure to have another outlet.
She was contemplating one in Christchurch but is now going to investigate Melbourne, where she has a lot of customers.
The businesswoman sees the attraction of another shop in a different economy. In the recession, Auckland was hit a lot harder than Wellington.
"Melbourne is another country with another economy, it's potentially safer," she says.
Cooper's shoe-making is self-taught. She went to art school for a couple of years, had some time overseas, then started making shoes in a "crafty, hippy way" . She then decided to take it more seriously and found a factory to manufacture for her.
"I definitely come from that generation of New Zealanders who make things. Dad built a boat, Mum was always trying this and that.
"To be honest, I find the design side really hard - I hate it, I think I'm no good. But it's very pleasing when you nail something - one shoe this season is a brogue with a wide sole - it's quite androgynous. I sold a pair to a man and he's whipping them off to New York."
At 53, Cooper has plenty of energy to continue indefinitely. Architect Frank Lloyd Wright did his best work after 50, she says.