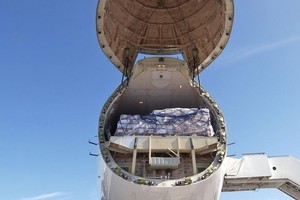 The Commerce Commission has reached settlements with three international airlines charged in a major cartel case, ahead of the first hearing in the case due in May.
Qantas, British Airways and Cargolux International Airlines had agreed settlements which involved admitting liability and paying significant penalties, the commission said today.
Further information about the settlements could not be released until they had been reviewed by the court.
The commission started proceedings against 13 international airlines in December 2008, alleging the airlines colluded to raise the price of freighting cargo by imposing fuel surcharges on cargo shipments into and out of New Zealand.
As well as settling with the three airlines, the commission said it had discontinued a case against United Airlines.
Commission general counsel of enforcement Mary-Anne Borrowdale said the commission continued to focus its case and direct its efforts towards those airlines with large turnover in New Zealand markets.
The commission was preparing for the first stage of the price-fixing case at which the key issue was the meaning of a "market in New Zealand" and whether air cargo services inbound to New Zealand were part of such a market.
"The commission is preparing to test whether it can pursue price-fixing conduct that occurs overseas. We need to know whether deliberate collusion overseas, to affect New Zealand markets, is something that we can take enforcement action against. Our efforts to streamline and focus the case have that central issue in mind," Borrowdale said.
The airlines defending the action were Air New Zealand, Cathay Pacific, Emirates, Japan Airlines International, Korean Air Lines, Malaysian Airlines, Garuda Indonesia, Singapore Airlines Cargo and Singapore Airlines, and Thai Airways.
- NZPA

The Commerce Commission released the following information about the world wide air cargo cartel cases:
Australia
Fifteen airlines were implicated in the cartel. Seven of these airlines have been ordered to pay penalties totalling AU$ 41m. The other eight airlines are awaiting hearing.
United States
Nineteen airlines have been fined a total US$ 1.6b. Four executives have been fined and imprisoned (6-8 month terms) and six others have been charged and are awaiting trial.
Europe
The European Commission imposed penalties against 11 airlines totalling € 800m.
Canada
Six airlines entered guilty pleas and have been fined a total of CAN$ 17m.
South Korea
Nineteen airlines have been fined KRW 120b.