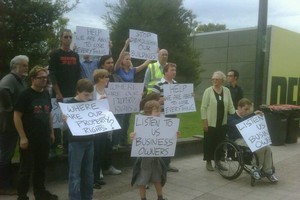 Furious Christchurch business owners are demanding Civil Defence allow them back into their central city properties to retrieve belongings before they are bulldozed down.
Thirty angry protesters marched to Civil Defence headquarters at the Christchurch Art Gallery - where Prince William visited today - with signs reading: "Where are our property rights?", "Stop demolishing our buildings" and "Help - we are about to lose everything".
They banged on the windows and told Earthquake Recovery Minister Gerry Brownlee to come out and talk to them.
Photographer Kurt Langer, who owns a studio in Cashel Mall and who organised the protest, said: "They're demolishing our buildings without telling us. They're taking everything away from us.
Mr Langer was incensed he would not be allowed back into the building he leases to grab crucial items before its inevitable destruction in the next few days.
He told NZPA the building was only moderately damaged and an engineer he had consulted had advised he could safely go into the building if some of the front wall was dismantled.
"But they (construction companies) are demolishing buildings already that have hardly been touched. They really are starting to knock down some buildings that engineers haven't even had a chance to come in with the owner and assess."
"Communist" Civil Defence workers had made decisions to destroy many buildings without consultation with business owners, Mr Langer said.
"They're ruining our lives.
"We have been kicked out of our city and we do not know if we will ever return and all our buildings are being demolished and we are losing every single possession in those buildings - they could let us get our possessions."
Civil Defence and Urban Search and Rescue (USAR) were "dictating" how the city was being run, he said.
Demolition companies were being awarded contracts and demolishing buildings without anyone taking responsibility, he said.
"And they are the ones that salvage what they demo'd and collect what they find."
Civil Defence needed to open up the city to business owners straight away, Mr Langer said.
"I think it is the right of the owners to get their own engineers in and to safely organise getting their stuff out."
Much of the demolition is being done by Fruz, Southern and Ward Demolition. A contractor said they were told what to do and did nothing without having USAR specialists nearby.
In its statement last night, Civil Defence said part or all of a building may need to be taken apart to allow USAR teams to safely search a building.
Contractors might need to take apart one building, which could render adjacent buildings unsafe.
The decision to take apart adjacent buildings was sometimes made onsite by the USAR team, not the contractor, and was always made for safety reasons, Civil Defence said.
Buildings were only demolished after engineering and heritage reports by Christchurch City Council heritage planners and NZ Historic Places Trust.
Earthquake response officials would make every possible effort to contact building owners and property managers and the Civil Defence national controller had to be satisfied the efforts were made before a building could be taken down.
"It is, however, the building owner's responsibility to inform tenants and leaseholders of affected buildings."