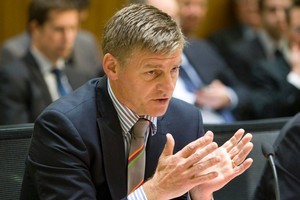 This year's Budget deficit will blow out to 8 per cent of gross domestic product - the highest in a generation - as the government spends and borrows to meet the immediate needs and reconstruction of Christchurch after the September and February earthquakes.
Public debt is also expected to peak at above 30 per cent of GDP, rather than the 28 per cent previously forecast, but the government still expects to return to Budget surplus in 2015/16 - a year later than forecast last December, Finance Minister Bill English told an ANZ investment seminar in Wellington.
Instead of a forecast deficit of $11.1 billion for the year to June 2011, it would now be closer to $16 billion, dropping back to about half that level by June 2012 as one-off earthquake costs drop out of the government's books.
While the total direct cost to New Zealand of the earthquakes was estimated at around $15 billion, the combination of direct and indirect costs - including the loss of around $5 billion in taxes over the next five years - the cost to the government was likely to be around $10 billion despite the adequacy of national insurance arrangements.
English signalled, for example, that Christchurch ratepayers were unlikely to be able to meet their share of repair costs in the short to medium term and could require a larger government contribution.
There were also unknown land remediation costs, temporary housing costs, and $370 million of ACC claims. He also predicted a "significant"
rise in Earthquake Commission levies from the current annual maximum of $60 because higher reinsurance costs in future and the need to replenish the National Disaster Fund.
However, fears that there would be major changes to planned infrastructure spending in other parts of the country had been exaggerated.
"Major projects the government has already committed to will not be deferred - they have already proved their economic worth and can't simply be switched on and off," said English. "Which projects we undertake ultimately depends on their costs and benefits.
These will not have changed much due to the quake."
The government would be watching its spending carefully to keep debt growth as low as possible.
"These changes will be long-term spending decisions made on their own merits, not short term decisions to meet the immediate bill from the quake," English said. "The cost of the earthquake will essentially be borne by the government's balance sheet, rather than by cutting operating spending or increasing taxes", with some capital spending redirected to Christchurch.
"Any changes will ensure that the government's commitment toprotecting the most vulnerable and maintaining public services continues." The government would press on with wider economic reforms. "It's important that we don't allow the quake to become the sole focus of policy."