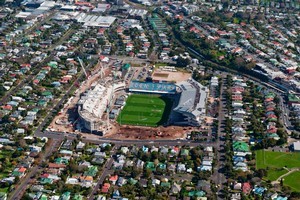 The Auckland accommodation sector is confident it has the capacity to handle an anticipated influx of extra rugby fans in the city, after Christchurch was stripped of its Rugby World Cup hosting rights.
Eden Park was yesterday named as the new venue for two quarter finals games that were to have been played in Christchurch on October 8 and 9.
Rugby World Cup Auckland co-ordination group chairwoman Rachael Dacy said accommodation providers should be able to absorb the anticipated increase in bookings given there were no matches previously scheduled at the ground across the two days.
"We have the least amount of pressure on our accommodation sector on that weekend and we believe we have capacity to accommodate existing visitors that will come in as a result," she said.
Motel Association of New Zealand chief executive Michael Baines said while motel operators in Christchurch felt they could have accommodated the fans, they believed yesterday's decision was inevitable.
"The reality is if you don't have a ground to play on then you can't play the game," he said.
Baines said the association had about 100 members in the Auckland area with about 1200 - 1500 rooms in the central business district alone - 700 of which had been booked.
"The greater Auckland area as far as Whangarei and Hamilton are equally in play and part of the mix. When you add those guys in there it's just huge - there's accommodation for Africa," he said.
More than half of Motel Association members have taken bookings during the six-week tournament, with this number expected to pick up by June or July, Baines said.
Hotel Council spokeswoman Jennie Langley said the council's 33 members in Auckland had more than 6200 rooms between them.
There were also two other hotels that were due to open near the airport in time for the Rugby World Cup, she said.
"Theoretically with the number of hotels and the room inventory they have between them, the numbers are there but it does depend on the bookings that will be required to move and what bookings they (the Auckland members) are currently holding," she said.
- NZ HERALD ONLINE