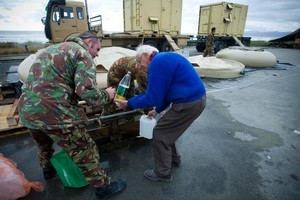 Sometimes money isn't enough, especially when you have no clean clothes and a load of washing you can't do because your house has no water supply.
So along with financial donations from the company and staff fundraising initiatives, iconic whiteware company Fisher & Paykel have set up five community laundries around Christchurch.
VP of Corporate Planning and Investor Relations Matt Orr says the company learnt after the September quake that it was being able to do the simple things that made the most difference.
"When infrastructure such as waste water and power have been disrupted, people lose the ability to manage the basics such as washing and drying their families' clothes," says Orr.
Fisher & Paykel have worked with the New Zealand Red Cross, Salvation Army and Civil Defence to find the best locations for the laundries.
"We wanted to help the communities that were worst affected," says Orr. "Ensuring communities without the fundamental services of water and power can still keep their clothing clean and dry is an important part of keeping their spirits up."
The teams set up five community laundry sites in key locations around the city, each housing up to15 large capacity washing machines and some dryers. They've also placed up to 60 appliances including washing machines, dryers, fridges and freezers for essential services in key welfare centres and camps around the city and wider suburbs
"We also had pallet loads of washing powder donated by Unilever and served tea and biscuits," says Orr.
He says the contribution was an obvious one.
"The heart of our business lies in two core areas - our appliances and our people, and both have been integral with relief efforts not only with both Christchurch earthquakes but also the Northland floods."
"Being able to become part of the teams that have kept day to day life as normal as possible for Cantabrians has been really satisfying for our staff," says Orr.
He says the interim cost to Fisher & Paykel's business in terms of supplying appliances and staff is far less material than the longer term priority of helping support the rebuild of New Zealand's second largest city.
"Christchurch is an important part of Fisher & Paykel's business and we are committed to being part of its future as much as we have its past," he says.