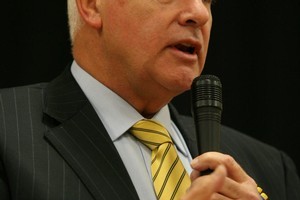 Measures to give regulators stronger powers to control potentially dangerous goods like laser pointers are among a suite of changes to consumer law introduced today by Consumer Affairs Minister John Boscawen.
Mr Boscawen today said he would introduce a Consumer Law Reform Bill to Parliament before the middle of the year, which he hoped would be passed before the year's end.
The bill, the result of a recently completed review of consumer law, will amend and consolidate several pieces of legislation, one of which - the Sale of Goods Act - is more than a century old.
Consumer protections contained in four acts which are to be repealed will be incorporated into the Fair Trading Act along with some enhancements, Mr Boscawen said.
"The Bill will also strengthen the enforcement powers of Government agencies, allowing faster and more effective action to remove unsafe products from the market."
Under the changes, unsafe good notices and compulsory recalls may be issued "where reasonably foreseeable use of misuse of a product will may or cause injury".
An example of the type of goods being targeted is laser pointers - which police reported have been used in 108 "attacks" on planes, ships and cars over a two-year period.
The changes will also give officials from the Ministry of Consumer Affairs and the Commerce Commission greater power to enter premises where potentially unsafe goods are on sale to investigate them or even halt their sale where a product has caused a serious injury.
As Minister of Consumer Affairs, Mr Boscawen and his successors will also be able to order the destruction of unsafe goods if they believe the supplier intends to make them available for sale.
The law changes also allow for anyone who breaches the Fair Trading Act twice within a 10-year period to be banned from managing or directing a company.
Other changes include bringing layby sales and unsolicited direct sales such as door-to-door and telemarketing under the Fair Trading Act.
That will give consumers a five-day cooling-off period in which to cancel a transaction after purchasing goods worth more than $100 from a door-to-door sales person or telemarketer.
The law changes also introduce a registration regime for auctioneers - albeit one that exempts providers of online auction services such as TradeMe, fundraising and charity auctions - and real estate agents and motor vehicle traders.

Consumer law changes:
* Stronger enforcement powers to allow faster more affective action to remove unsafe products from the market.
* Auctioneers will have to be registered and meet a number of minimum standards.
* All goods sold by traders via auctions -including online auction sites such as TradeMe - will be subject to the "acceptable quality" provisions of the Consumer Guarantees Act
* Traders and retailers will be prohibited from making unsubstantiated claims about products.
* Couriers and other carrier services will come under the Consumer Guarantees Act.