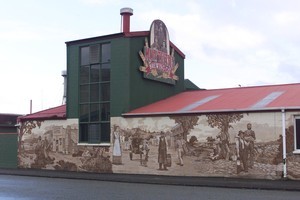 Greymouth finally has something to smile about after news its 143-year-old Monteith's brewery will get a multi-million dollar makeover.
Less than six months ago 29 men were killed in an explosion at Greymouth's Pike River Coal mine.
The region was hit hard by the disaster, with the Pike River Coal company forced into receivership, hundreds of jobs lost, and contractors unpaid.
The redevelopment of Greymouth's iconic brewery, to cost about $4 million, was expected to increase visitors to the region and generate jobs.
About 16,500 people visit the brewery each year and manager Tony Mercer said that figure was expected to rise to 40,000 by 2014.
"The current site has been untouched for many years yet the popularity of Monteith's and interest in its origins continues to grow," he said.
The redevelopment, to be completed by February 2012, should increase jobs -- brewery currently employed nine full and part-time staff, but Mr Mercer hoped that would increase to 13.
Monteith's also planned to develop a Beer Trail, which would encourage visitors to stay longer.
Visitors and locals would be encouraged to get a Greymouth 'passport' and collect stamps at bars around town, including at the brewery, he said.
Greymouth Mayor Tony Kokshoorn said he was delighted Monteith's was investing in the West Coast and the project was extremely positive.
"The redevelopment has the potential to have a significant impact on visitor numbers to the area which will be hugely positive for tourism operators through to retail stores."
General manager Tourism West Coast Matt Ewen said the region was New Zealand's fifth-biggest tourist destination but had suffered falls in visitor numbers due to the recession.
"Fortunately visitor numbers are slowly starting to grow again and developments such as this by Monteith's will play a huge role in ensuring that growth continues."
Monteith's would also become a centre of innovation where brewers could create and test new brews, Mr Mercer said.
The makeover would start in July with brewing equipment replaced. Production would move to sister brewery, Mainland Brewery, near Timaru, in July until the new brewery was running.
- NZPA