Clare Mora has rescued her business from the brink following 2008's economic crisis.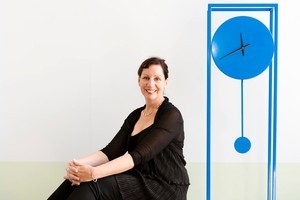 When Clare Mora, owner and founder of Essenze, looks back on the years since the September 2008 global banking crash, she can comfort herself that hers is a classic salvation tale: dizzy success, unexpected downfall, steady and wise rebuilding.
If anyone has the perfect combination of credentials to promote high-end New Zealand design to the world, it is Mora. The child of an opera singer ("I know what it is like to put your art out there to people, every day"), she spent much of her childhood and teens in Europe, first in London and from the age of 9 in Germany. She briefly returned to live in New Zealand after high school, aged 19, but missed Germany.
Five years in a design and advertising degree and a couple of years working for Lufthansa Airlines, she realised she was between nationalities. She had immersed herself in the art world, traipsing around design schools with her father, and writing her design thesis on translating high design into the mass market. After the disappointment of her first return to New Zealand, a lengthy recuperation from an illness gave Mora the unexpected space to reflect on her second return in 1994.
"It was fascinating to look at the passion and the vision and the certain style that was here, but it had a global element," she recalls.
Her first foray into selling New Zealand contemporary craft and furniture was an unexpected success, when she'd pitched a portfolio to the "Barneys of Germany", department store Ludwig Beck.
The store offered her 200sq m of space in their flagship Munich department store. The catch was the contract was won in May 1994 and the display had to be in store by that November. But with the encouragement of her cousin, gallerist John Gow, money eked from her own funds and kindly banks, she made it and five New Zealand craftspeople were exposed to an incredible 1.2 million customers. She repeated her success for Christmas 1995, but when the market crashed in 1996, Mora had to re-focus her business.
"I realised that my style was more design and less craft. I was not in the wooden salad servers market, but a more refined product, things like hand-blown glass. Plus I needed a more sustainable business model, artists who understood they had to be refined, but keep working - not people who take off for the beach every time they make a big sale," she explains.
She found the perfect fit with Nelson-based Swedish glass artists Hoglund. She turned to the US market, knocking on doors and quickly gathering orders for huge volumes. But she was learning all the time, working to develop a system that could deliver commercial volumes of a hand-made product. Her retail experience prompted her to create the first of the Hoglund Art Glass galleries in 2000 in Parnell.
There was heady growth, commissions for America's Cup and the Olympics, outlets in Australia, Singapore and Dubai. But by then Mora had a young baby and wanted to step back, so she quit that business.
But life has a way of pushing you without realising. Within weeks, she was being approached by other designers who wanted help with their business operation, help to commercialise their handmade products.
One thing led to another and the first incarnation of Essenze the design store was born in Parnell, featuring about-to-be global designers such as furniture and lighting craftsman David Trubridge. Mora was bold and growth was giddy. By 2006 she'd door-knocked Saatchi and Saatchi's global chief Kevin Roberts and got herself display space in the heart of Manhattan.
"It was a massive undertaking, but people got it. Everyone got it," she says. Clever fellow Kiwis making it in New York helped make it happen - Stefan Preston, then globalising Bendon, PR mavens Brian Sweeney and Jane Vesty, and high tech hot couple Craig and Kirsten Nevill-Manning (he's Google, she's Facebook). John Cook, a New Zealander based in Austin, Texas was also in.
Incredible growth and excitement. "And then, in 2008, we were literally carrying the boxes into the new store on Broadway when we heard the news of the crash. I've never seen New York like it. Every day we'd be opening emails. Within a week the first client fell over, a second cancelled a massive order. One client's share price fell from $14 to 8c. We lost everything."
Luckily in the midst of the growth, Mora had got to know Preston through the Beachhead investor programme.
Following the economic crash, he stepped in and put money into the business and brought, she says, the logical thinking to balance her creative side.
His injection of money and confidence has finally come to fruition with Mora's new store space opening last week at 223 Parnell Rd. The space, designed by architect Jonathan Custance is airy and challenging and designer Katy Lockart has injected subtle sweeps of colour. The design displays capture Mora's approach to gathering the best artists.
The double-height entry lobby is about to be fitted with a 3m glass feather piece developed in collaboration with long time Essenze artist Te Rongo Kirkwood and the window display is a captivating array of vivid powder-coated vintage homewares by newcomers MoAD. The words she returns to again and again are "raw sophistication".
"New Zealanders have learned that we're surrounded by colour, there is always a conversation to be had with colour for designers."
Her stable of designers stayed with her and has grown.
Mora is excited at the development of the house brand, textiles and pieces commissioned from artists such as Jo Luping from long established factories such as Interweave. More of that raw sophistication.
"New Zealanders think we'll just 'give it a go', but then produce such tightly thought-through product.
"You go into a rough factory, but the minute people start talking there is deep knowledge and stories to tell."
While her first love is glass art - the shop still has the jewel-lit wall of pieces from Gary Nash through to Chris Jones and Lynden Over - Mora has determinedly created a section of the shop for affordable pieces to introduce shoppers to the craft design, with pieces in wood, laser-cut steel or perspex.
A customisation area allows architects and designers to introduce their clients to specialist pieces (rugs by CRONZ from New Zealand wools, furniture and lighting) and Essenze's in-house designers can help create schemes or feature pieces.
Mora continues to nurture emerging designers, working closely with design schools in Dunedin and AUT.
"There is no science or structure, selecting pieces [that will sell].
"It's a pick and mix of crap with the good stuff. But you have to stay respectful no matter who walks in the door," she says.
Keeping the look of the products fresh is a constant balance.
"You have to give people a platform for the edgy stuff, so that even people in danger of repeating themselves or staying with a one-hit wonder have the confidence to expand themselves.
"I'm not so worried any more, I've seen it again and again and it will work. Eighty per cent of the time it works. We've got incredibly loyal customers, we're very lucky."
So the regeneration of Mora, her designers and Essenze is off to a good start.
She sees growth for her craft-based originals, without endangering them or their work, globalising once more with her vision of raw sophistication and intelligent manufacturing.
* The grand opening of the new Essenze store is tonight. The store is featuring in the Urbis Design Day, Saturday March 19, 10am-5pm. Tickets from $30. eventfinder.co.nz