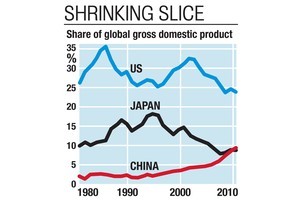 The impact of Japan's record earthquake on global growth may be limited as its economy's share of world gross domestic product is in decline.
The chart shows Japan's share of the global economy has fallen in dollar terms from almost 18 per cent in 1995, the year of the Kobe earthquake, to 8.7 per cent, according to data from the International Monetary Fund. It also lost its rank as the world's second largest economy to China last year, a report from its Cabinet Office said in February.
"Japan's not had a major impact on the world economy for a while," said Kit Juckes, head of foreign-exchange research at Societe Generale in London. "It's not a big market for the rest of the world to sell to."
Before the quake, Japan's economy was showing signs of a revival after shrinking an annualised 1.3 per cent in the fourth quarter. Societe Generale economists said in a report yesterday they now expected a decline in economic output for a couple of months followed by a "sharp rebound". The economic damage will generate costs equivalent to about 2 per cent of the country's GDP, they estimated.
Juckes said the earthquake might still have an international effect by dampening investor appetite for risk and supporting the price of oil above US$100 ($136).
"I can't see a step backward in the issuance of nuclear power being anything but positive for the price of oil."
- BLOOMBERG