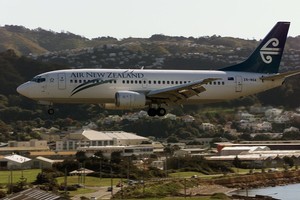 Air New Zealand shares tumbled 7.5 per cent after it told the stock exchange this morning that the impact of the Christchurch earthquake and Japan's devastating quake and tsunamis will wipe out its profit in the second half of the year.
Normalised earnings will be below $100 million in the 12-months ended June 30. That dashes hopes of a stronger full-year result after the airline posted 50 per cent growth in earnings to $96 million in its first half, driven by improved load factors and a jump in revenue.
The shares initially fell 9 cents to $1.10 and have dropped about 13 per cent in the past month. They have since gained two cents to $1.12 - a 5.88 per cent fall.
"The financial impact of the Christchurch earthquake is more severe than expected," the airline said in a statement. "Further, the recent tragic events in Japan will also impact revenue in that important market."
The profit downgrade comes after Air New Zealand last week announced average fare increases of 7 per cent as it passed on the impact of higher fuel costs. The carrier said aviation fuel had risen from US$114 a barrel six months ago to US$130 recently, adding as much as US$10 million a month to operating costs.
On February 24, the airline reported a 75 percent rise in half year net profit to $98 million, as passenger numbers, cargo volumes and yields all increased from a year earlier.
Revenue for the six months to the end of December was 9 percent higher than a year earlier at $2.26 billion.
It also flagged fuel price volatility as a significant risk to its earnings when it reported its interim results, but said that fuel costs were 93 per cent hedged for the second half of the financial year, and 42 per cent for the first half of the next.
-with NZ HERALD ONLINE