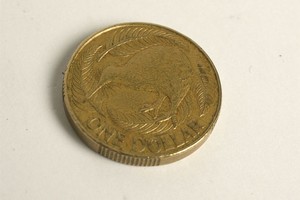 The New Zealand dollar yesterday scrambled back to an exchange rate of 60.76 at 5pm, after spiking to 59.52 just before lunch after the Japanese quake and tsunami.
The NZ and Australian dollars opened yesterday softer due to unwinding of carry trades and expectations of funds repatriation back to Japan, but a reversal came as the US dollar climbed sharply against the yen, bouncing off a four-month low around 80.60. This was despite the Bank of Japan putting 15 trillion into its financial system to maintain stability.
In New Zealand, February housing data showed a mixed picture, with prices picking up from January, but still down on a year ago, with one bank's economists predicting that Christchurch's population will drop by at least 4 per cent over the coming year.
The New Zealand dollar started the week higher as investors scrambled to understand the financial ramifications of the Japanese disaster, and was US74.28c at 8am, up from US73.56c at 5pm on Friday. It finished the day at US73.91c. Westpac said that agreement by European leaders on a deal to limit budget deficits and increase a bailout fund, a solid US retail sales report, and lower oil prices all helped the New Zealand dollar last week but the kiwi finished yesterday at €0.5310 compared with €0.5323 on Friday.
During the weekend the price of oil tumbled 1.5 per cent on the closure of Japanese refineries, and Japanese stocks were punished 1.7 per cent, with more to come. European stocks were also lower, led down by reinsurance companies.
The earthquake and tsunami devastated Japan on Friday and shut down ports, plants and refineries, leading to a sell-off in most commodities on fears of a destruction in demand in the world's third largest economy.
The NZ dollar finished back around Friday's levels against the Australian dollar, at A73.34c.
The trade weighted index was at 65.30, up from 65.26 on Friday.
- NZPA