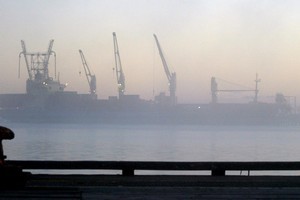 Aluminium and timber, New Zealand's two most valuable exports to Japan at more than $1 billion, could be even more in demand after the devastating earthquake and tsunami.
But Japanese businesses already have large stakes in both commodities here because they are major long-term foreign investors.
Trade officials were quietly positive yesterday, but with the caution that New Zealand did not want to be seen to be profiting from the catastrophe.
But when Japan does begin its recovery, New Zealand exports could play a big part, providing crucial materials.
Industry officials were taking stock yesterday. Andrea Carson at New Zealand Aluminium Smelters at Bluff was seeking information from managers at the plant. "We'll definitely be looking at it," she said.
Aluminium is used in Japan's giant car manufacturing business and in its building sector.
New Zealand timber plays a big part in its construction sector as well as paper and wood fibre.
The Japanese hold direct ownership in both the crucial aluminium and timber businesses operating from here, having bought in some years ago.
Sumitomo Chemical owns 20.6 per cent of New Zealand Aluminium Smelters.
The rest is owned by Rio Tinto Alcan.
Most of the plant's alumina comes from the Yarwun and Queensland Alumina refineries at Gladstone and about 90 per cent of the aluminium made at Tiwai Pt is exported to buyers in Japan, elsewhere in Asia, Europe and the United States.
Forestry giant Juken New Zealand is Japanese owned, part of the massive Juken Nissho business, has its head office in Auckland and is a major Kaitaia employer. Juken owns big plantation forests in Northland, the East Coast and Wairarapa.
Pan Pac Forest Products is also Japanese owned and has its integrated forestry and timber product operation in Hawkes Bay. Processing is done from the Whirinaki industrial site, 20km north of Napier. Pan Pac controls the management of cutting rights to about 30,000ha of plantations at five Hawkes Bay forests.
Phillip Gibson, one of New Zealand's most senior diplomats, an expert in Asian business and the former ambassador to Japan, said yesterday that Japan would remain crucial to New Zealand trade interests.
"For a long, long time, Japan has been one of our major markets, our fourth-largest trading partner."
Timber Industry Federation executive director Wayne Coffey said timber exports could well rise, but not immediately. "There will be a lot of rebuilding so a lot of building products will be needed."
Interest in wood increased after the September Christchurch quake, he said, but the long lead time involved in building meant no immediate benefits.
"The use of timber was not expected to rise for 12 to 18 months because plans need to be submitted, people need to think about how things will be done," Coffey said.
Fletcher Building infrastructure chief executive Mark Binns said Japan imported metal roof tiles and timber products made by his company and demand for these would rise.