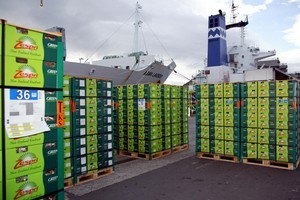 Japan is set to receive its first load of kiwifruit for the season next month but exporter Zespri says it is too early to estimate the impact of the devastating earthquake.
Zespri spokeswoman Melanie Palmer said Japan took about 17 per cent of crop volume and generated about 30 per cent of sales value - about $370 million a year.
"It's our highest performing market," Palmer said.
"Over the next couple of weeks our operations team will be assessing impacts from the devastation in Japan and understanding how that will affect the crop going forward but it is far too soon to say on that front."
Zespri also has 730 growers in Ehime and Saga Prefectures, both south of Tokyo.
"My understanding is they're well away from the devastation zone," she said.
Air New Zealand spokesman Mark Street said the airline would monitor the situation but it was too early to draw any conclusions about the impact on tourism.
Air New Zealand last month announced it was reintroducing jumbo jets to Tokyo in a move the NZX-listed airline said demonstrated its confidence in the growth potential of the Japan tourism market
Street said the airline was continuing with its plans for the jumbo jets but was monitoring the situation closely.
"They're from Christmas onwards, so that's a long way away at this point so any decisions on that would be much closer to the time," he said.
Seafood Industry Council chief executive Peter Bodeker did not expect any long-term disruption to business "apart from the initial disruption due to what might happen around supermarkets, supply chains and so on".
"But in the long term there's no ongoing processing activity in the ports that have been damaged so all things being considered things should be back to normal as soon as possible."
Pipfruit New Zealand services manager Gary Jones said there might be some logistical challenges in the short term.
"In our experience globally economies such as this can recover very quickly in their food infrastructure," Jones said.
"In terms of demand I'm not sure whether it will be affected," he said.
"Often it's very difficult to work out what the human reaction can be in terms of purchasing decisions but our suspicion is that the Japanese will be wanting to get on with life, or most things, as normally as possible while they go through their grieving and rebuilding."
A few dozen containers of apples were expected to be exported to Japan this year in what is a developing market for New Zealand producers.
Japan would react extremely quickly, Jones said.
"It needs to feed the population so one of the key things for the Government to make sure it gets back is infrastructure, communications and food distributions," he said.
"You can't have a crisis like this and then suddenly throw a food crisis on top of it as well."
IMPORTANT TRADING PARTNER
EXPORTS TO JAPAN 2010
* Aluminium - $647.2m
* Wood & charcoal - $414.4m
* Dairy & animal products - $366.2m
* Fruit and nuts - $307.9m
* Meat - $306.3m
* Vegetables - $122.6m
* Fish & crustaceans - $121.6m
* Wood pulp & recovered paper - $96.6m
* Mineral fuels, oils & products - $87.5m
JAPANESE TOURISTS
* $321m spent during the year ended December.
* 88,605 visitors during the year ended January.
* 11.3 per cent rise in visitors.
Sources: Statistics New Zealand; Ministry of Economic Development