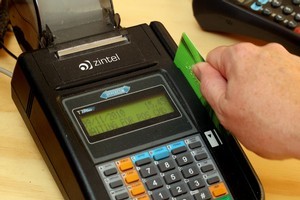 Hundreds of retailers will be switched off from the Paymark network from today because they have failed to heed months of warnings about upgrading out-of-date eftpos machines.
About 400 terminals from a cross section of the business community, were due to be disconnected from the network today because they posed a risk to the safety and security of transactions, Paymark said.
Paymark's chief executive Simon Tong said the disconnections applied to a small group of retailers whose agreement with their bank to run old equipment has expired.
Banks and Paymark had sent a series of communications to the affected retailers during the past three months outlining the deadline of March 14.
The nationwide cut-off date for all other retailers to upgrade their terminals is June 1.
Tong, said the message was simple: "Those retailers who do not upgrade in time will be disconnected."
"This particular group of retailers have had time to make the switch, but have ignored our warnings and as a result will be unable to process Eftpos transactions on our network as of today."
Tong said that reconnecting was a simple process and retailers could be up and running "as soon as they connect a compliant terminal to the network".
"We've been urging people to upgrade for some time now and the response from most retailers has been fantastic. The sooner the remaining retailers make the move, the better," he said.
- NZ HERALD ONLINE