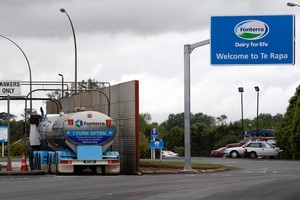 A leading United States dairy lobby, the Milk Producers Council, has conceded that Fonterra's regular online auctions of milkpowders and other dairy products may be providing a reliable global benchmark for international dairy markets.
"To the extent the auction reflects international buyers' current decisions to accept future deliveries at committed prices, it perhaps could be considered one of the more reliable indications of international supply and demand," said an executive of the council, John Kaczor.
He told the agrimoney.com website that a report last month noted "some continuing objections about whether these auction prices represent a fair picture of product value", but also noted the decision by the NZX to use Fonterra's prices at the globaldairytrade online auctions every fortnight as the basis for cash settling newly launched dairy futures contracts.
The globaldairytrade auctions, which trade about 600,000 tonnes of Fonterra products a year, have run up sales of $3.2 billion since they were launched in July 2008.
The auction has more than 300 registered bidders in 58 countries, but Fonterra has so far had little success in persuading Northern Hemisphere dairy giants to also sell products online.
Fonterra has just published draft rules, developed with global dairy firms including Arla Foods and FrieslandCampina, to govern the opening up of the online auctions to outside companies.
The Auckland-based co-operative is seeking feedback from industry.
Gary Romano, managing director of Fonterra trade and operations, said the draft rules had been released to allow industry participants and stakeholders to offer suggestions and feedback.
"All parties are keen to be open and transparent so that globaldairytrade moves to the next phase of its development with continued wide support from the global industry," he said,
US-based DairyAmerica and Australia's Murray Goulburn also "had input" into draft rules for opening up the auctions, Fonterra said, "although no company has yet committed to offer product".
Arla Foods, the Swedish-Danish co-operative behind Lurpak butter, said it had looked at the proposed rules for selling dairy products in addition to Fonterra's.
"But at this point in time we have not made any commitment," a spokesman said.
Dutch company FrieslandCampina said it had "not yet decided" whether to sell through globaldairytrade. But it added it would "like to stay connected with the developments".
Fonterra managing director for global trade Kelvin Wickham said when the company stepped up its auctions to every two weeks in September last year that the move highlighted globaldairytrade's success as an online trading platform and as a credible price-discovery mechanism.
- NZPA