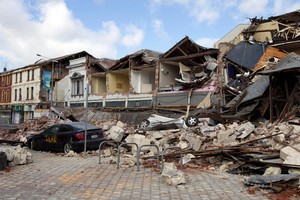 Rebuilding Christchurch will create conditions similar to the building boom between 2002 and 2007, Reserve Bank governor Alan Bollard says.
"The prospects for the building sector have suddenly changed massively," he told MPs on Parliament's finance and expenditure committee today just after announcing the Official Cash Rate (OCR) had been cut from 3 per cent to 2.5 per cent.
"We're about to have the biggest construction project in New Zealand's history."
Dr Bollard said that while the earthquake would have a short term negative impact on economic growth, he believed that when the rebuild began in earnest in 2012 there would be an improvement.
He said the Reserve Bank would face challenges controlling inflation in the next few years, but he believed that in the medium term it was manageable.
MPs questioned Dr Bollard about the impact of oil price rises, and he said the Reserve Bank was watching the situation closely although it did not think there was a long term problem.
Dr Bollard said that because of the national state of emergency, the bank was having more contact than usual with ministers and information had been shared about the economic implications of the earthquake and the Government's plans to deal with the crisis.
He said he had not been under pressure from ministers to lower the OCR, and had made the decision himself to bring it down by 50 basis points.
He said that to an extent it was "a confidence thing" and lowering it by less than 50 points wouldn't have been worthwhile.
Dr Bollard told the committee the Reserve Bank was making economic projects in very unusual circumstances because of the earthquake, and some of its projections were likely to change over time.
In Parliament, Finance Minister Bill English confirmed there was more than usual contact between the Reserve Bank and the Government, but said he had not known the extent of the cut in the OCR until it was announced this morning.
- NZPA