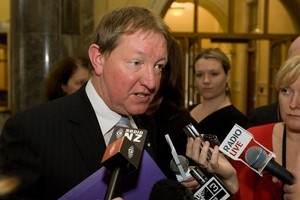 ACC will not punish Christchurch businesses for the death or injury of workers in last month's earthquake, ACC Minister Nick Smith says.
Under changes to the worker insurance scheme to be introduced next month, employers whose staff are hurt in the workplace are to have their ACC levies increased as a result.
Dr Smith said today that the quake would be declared an "adverse event" so Christchurch employers would not be unfairly hit with a levy increase, unless they contributed materially to an employee's injuries.
"Penalising employers in Christchurch for what was an exceptional and catastrophic event that was clearly beyond their control is wrong," Dr Smith said.
"By declaring the Christchurch earthquake an adverse event this will ensure that fairness and good sense will prevail when it comes to applying experience rating provisions to Christchurch employers."
The levy changes from April 1 will give businesses discounts or penalties on their workplace ACC levies based on a three-year claims history.
The changes are designed to encourage employers to prevent workplace injuries and make levies fairer to low-risk employers.
- NZPA