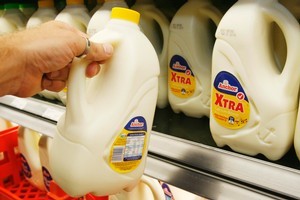 Fonterra is opening up its online dairy sales auction to international competition.
Fonterra trade and operations managing director Gary Romano said when globalDairyTrade was launched in July 2008 it was envisaged that other dairy product sellers would eventually join.
"Fonterra has been working with a number of international dairy companies to develop draft market rules that will enable this to happen."
Arla Foods and FrieslandCampina in Europe, California Dairies and DairyAmerica from the United States and Murray Goulburn from Australia had been involved in developing a draft set of market rules that would govern multiple sellers.
No company had yet committed itself to sell products on the system.
Fonterra sold about 600,000 tonnes of product a year through the auction, with sales since the launch totalling US$3.2 billion ($4.3 billion).
The auction had more than 300 registered bidders from 58 countries.
Introducing other sellers would add volume, lead to more reliable price discovery and had the potential to attract more buyers, Romano said.
Draft rules were released yesterday to give industry participants and stakeholders the chance to offer suggestions and give feedback.
Fonterra globalDairyTrade manager Paul Grave said it was a "significant step forward".
"Long term, we see it as a marketplace with lots of different sellers from lots of different regions ofthe world selling many different products," Grave said.
"Obviously during the period of the global financial crisis people were focused on other things ... but now's the right time to get this out there."
Fees paid by sellers using the system would be based on the annual quantity offered, with those selling between 5000 and 50,000 tonnes paying US$30 a tonne, while those selling more than 200,000 tonnes a year paying US$5 a tonne.
Grave said fees would go to globalDairyTrade, which was owned by Fonterra, and would be used to cover the costs of operating the platform.
Fonterra sold about 25 per cent of its product in volume terms through the online system.
The auction was a platform for selling standardised commodity products but helped inform negotiations with customers for other value-added products, he said.
"You get more people involved, then your volume's greater so therefore the credibility of your price is greater and just a lot more trust and belief in the mechanism."
Grave hoped other companies would join the online sales systems within the next couple of years.
He hoped the rules would be adopted during May.
Kathryn Jaggard, derivatives manager for NZX, said the auction was the most transparent price mechanism for physical dairy commodities globally.
The development of the auction and the futures market had enhanced New Zealand's place as a dairy hub globally, Jaggard said.
"I don't believe I've ever spoken to anyone in the global dairy industry that does not know about [globalDairyTrade] and that equally does not either look at it or utilise the prices."