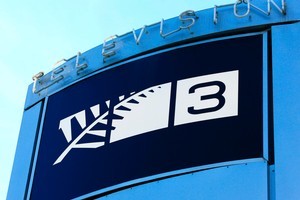 Struggling media company MediaWorks is up-to-date with its broadcasting licence payments and has not received a bail-out loan from the Government, Communications Minister Steven Joyce says.
The company, owner of television channels TV3 and Four and a nationwide network of radio stations, owes $43.3 million to the Government for the renewal of its radio broadcasting licences, according to its latest accounts.
The Herald today reported that MediaWorks essentially received a $43.3 million loan from the Crown to enable it to renew its radio broadcasting licences for the next 20 years.
The company said today that a deferred payment plan was offered to all broadcasters and several took it up. It involved a five-year payment schedule with the deferred component accruing interest at 11.2 percent.
MediaWorks said its financial position was good and its shareholders were fully supportive. Earnings had improved and debt had been reduced.
Mr Joyce today said no payment had been made to the company and the $43m was actually money owed under a 2009 scheme that allows broadcasters to defer licence payments.
"The reality is that under the scheme they have a debt to the Crown because they haven't paid in full for their frequencies," Mr Joyce told NZPA.
He later told Parliament the Cabinet made the decision in October 2009, at the height of the economic recession, to offer all broadcasters deferred payment terms on their licence renewals and he announced it in a media statement the same month.
"MediaWorks was one of nine companies to take this up...Cabinet made that decision to allow those payments to be made over time provided there was no cost to the Crown and interest was recovered, and that is what happened," Mr Joyce said.
Prime Minister John Key also said it was a deferred payment, not a loan.
"They're actually paying a significantly high interest rate for that, and it's secured...the Government has different payment options for assets all the time," Mr Key said.
Labour leader Phil Goff said the Government should explain why it decided to help one area of private enterprise and not others.
Mr Joyce said Mediaworks had to present it as a debt because it is was a debt they owed the Crown, and how that was presented in their books was up to their accountants.
"All I can tell you is that the Crown has not advanced any cash to MediaWorks at all, that the Crown has offered a deferred payment option to all of the frequency holders who were due to renew at that time, which involved them paying interest and getting in their payments over five years."
Mr Joyce said MediaWorks had been keeping to the terms of deferred payment.
Mr Joyce previously owned RadioWorks, the company's radio arm, but sold up in 2001.
"I've had no dealings with the company in the eight years since," he said.
MediaWorks is paying off its radio broadcast licence for the 2011-31 period over a 50 month term at 11.2 percent interest.
In a report filed last week with the Companies Office, MediaWorks parent company GR Media Holdings showed group earnings before interest, tax depreciation and amortisation (ebitda) of $50 million for the year to August 31, 2010.
For media companies, ebitda provided a recognised measure of profitability independent of funding structures, and was a better measure for group trading profitability, the report said.
In the 8-1/2 months before the end of August - following restructuring completed in mid-December 2009 - the company reported a net loss before income tax of $55m.
Total borrowings as at August 31 were $562m.
MediaWorks was bought from its Canadian owners in 2007 by Australian private equity company Ironbridge.
After Mr Joyce had spoken in Parliament, Labour MP Trevor Mallard said he still had questions to answer.
"The reports of the Government's generosity to MediaWorks come at a time when the Government is expected to cut funding to TVNZ7, undermining public broadcasting," he said.
"Steven Joyce and the Government have not been upfront, they have not been transparent and they certainly have not been honest with the New Zealand public or other media about this situation."
- NZPA