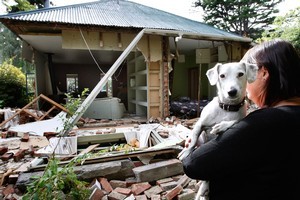 The Government may fast track consents for new subdivisions to house Christchurch residents whose homes were destroyed or sit on irreparably damaged land, says Prime Minister John Key.
Mr Key yesterday revealed a plan to offer homeowners in the more badly affected areas of Christchurch where rebuilding shattered homes is not an option, freshly built homes in new subdivisions or cash payments to allow them to buy homes elsewhere.
While Mr Key has so far refused to say where quake affected residents may be rehoused, he said there were a number of areas around Christchurch currently under development.
"The Government could always accelerate the consenting of those."
It is understood the worst affected areas where rebuilding is either impractical or too expensive are in the city's easterns suburbs such as Bexley, Avonside and Dallington.
Geotechnical surveys are under way on a "plot by plot" basis, but Mr Key said it was possible entire streets or even larger areas may have to be abandoned.
This morning he told reporters rehousing would be a far quicker way to rehouse displaced residents than trying to rebuild in locations where the new homes may be uninsurable anyway.
He estimated it could take up to four years to demolish homes, repair the land and rebuild houses in the worst affected areas compared to a year to 18 months to rehouse people in new homes elsewhere.
The Government said geotechnicians were currently assessing properties section by section. It is not known how many of the homes earmarked for demolition are on unstable land.
Mr Key last night said the EQC and officials were working on alternatives to the commission's usual practice of paying the first $100,000 for damage to houses, the first $20,000 for damage to contents and an amount to repair damage to land within 8m of people's homes. Private insurers pay the rest.
The PM said affected homeowners might instead be offered a cash settlement. Another option was to offer homeowners a choice of a section and building plan in a new subdivision, "commensurate with the insurance model you had".
There were options in terms of subdivisions around Christchurch and Mr Key said the Government and the EQC might be able to secure some of that land and put together an "attractive" package for homeowners.
The Prime Minister acknowledged that it would be "very frustrating" for some people to move away from where they were currently living.
However, under the old model of assistance, they could have been out of their homes for two years anyway while their homes were demolished, remediation work to stabilise the land took place, and rebuilding was completed.
Furthermore, homes rebuilt on the same quake-damaged land could be uninsurable.
Asked about the cost of such a package, Mr Key indicated he hoped the Government would not have to contribute additional funding.
"By definition, I think we'll be in a position where the combination of EQC and private insurance will be enough to put them in a new home."
Last week, Earthquake Commission chief executive Ian Simpson told the Herald that the agency's exposure to land damage from both the September and February quakes was relatively small compared to its bill for damage to homes themselves.
An EQC spokesman said the commission's board met yesterday and was to discuss the issue of badly damaged land.
More details of the proposed scheme were likely to be made public in coming days.