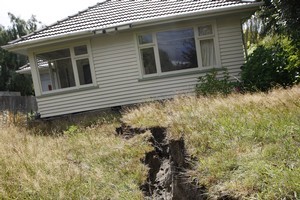 Businesses and residents may be able to retrieve important belongings from earthquake-damaged areas of Christchurch's city centre from next week.
Civil Defence national controller John Hamilton told a media conference this morning that many businesses needed documents from the cordoned off "red zone" so they could carry on running elsewhere in the city.
His officials would be assessing whether they would be allowed temporary access to their former premises this week.
However, no-one would be allowed to enter buildings marked with a red sticker - signalling it is unsafe - even for a short time, Mr Hamilton said.
"There are still some places where it is unsafe to be even in the middle of the road.
"Public safety is our paramount concern. I understand that businesses really want to retrieve key items.
We appreciate their patience because our main priority is to achieve safety of them."
Mr Hamilton expected the first teams to enter the city centre on Monday.
Disaster Victim Identification staff who needed access to earthquake victims' records and Government agencies seeking personal information would be given priority, he said.
Registration forms to enter the CBD are available at www.recoverycanterbury.co.nz.
Death toll
The death toll from the Christchurch earthquake remains at 166, but police believe the final count will be about 200.
Police Superintendent Sam Hoyle told this morning's conference that 166 bodies had been taken to the temporary morgue at Burnham Military Camp.
Of those, 44 had been officially identified by Disaster Victims Identification teams, he said.
He expected the total number of dead to rise to 200.
Families of quake victims would tour some of the most devastated inner-city sites today.
Japanese families have reportedly asked to be allowed to closely observe the CTV site, where a group of language students perished. However, police said that request would not be granted for safety reasons.
Usar
Urban Search and Rescue (Usar) teams have been continuing to sift through rubble in the Christchurch CBD.
Usar spokesman Russell Wood said the teams' focus today was the Forsyth Barr building, where they are clearing a collapsed stairwell.
Recovery work has been completed at the Canterbury TV building - where it is believed more than 100 people died - and the Pyne Gould Corporation building, he said.
Power
Repairs to a major cable have halved the number of people without power in the eastern suburbs of Christchurch.
Engineers from lines company Orion completed the repairs which reconnected 3500 of the 7000 people still without power in Brighton and Dallington at 3.30am, Christchurch Mayor Bob Parker told media.
There are also still 4500 people in the city centre, 500 to 600 in the Sumner area and 500 scattered around Christchurch who are still without power.
Water was also slowly being restored to the city, with 89 per cent of houses with "some water supply", said Mr Parker.
Fire ban
The Fire Service reaffirmed the need for a total fire ban after a large vegetation fire pulled many resources away from quake recovery.
Spokesman Russell Wood said the blaze near Taylor's Mistake pulled 6 units and 2 helicopters away from crucial duties overnight.
It is not known what caused the fire, but it was still smouldering this morning.
"We really don't want our assets to be diverted when they may be required for earthquake-related activity," said Mr Wood.