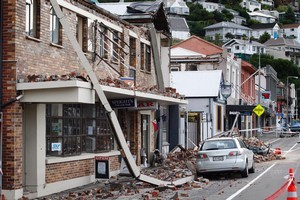 February's earthquake is a chance to explore what money means to us Project Lyttelton Chair Margaret Jefferies said.
"A business model is such old thinking and it's not going to get us out of here."
For Jefferies the future for Lyttelton, which lies in ruins with many of its heritage buildings destined for demolition, was about thinking differently, "about changing our way of being."
Lyttelton has long earned a reputation for being a hub of sustainability and eco-friendly-thinking with a strong sense of community and Jefferies said the next step was to embrace the idea that there were viable alternatives to monetary systems.
"Think about the last week. Not much money has been spent and people have an inkling that you don't need money. We can survive in a different way through sharing resources."
Six years ago Jefferies spearheaded the establishment of a Time Bank in Lyttelton after attending a conference in New York where she met one of the men instrumental in setting up the Euro, Bernard Lietaer.
"There has been a resurgence around the world of complimentary currencies that are not conventional and operate on a smaller scale because communities have realised you can't win the money war," said Jefferies who still corresponds regularly with Lietaer.
The Lyttelton Time Bank has 391 members and Jefferies has worked with a group called Living Economies to set up other Time Banks around New Zealand.
After the September earthquake she said they had people sending them credits as donations.
"It's a alternative system, just like air miles are an airline's currency. You'll always have to have a national currency but that's the male aspect of money. The feminine side of money are alternatives like Time Banking.
"If you look closely at money it focuses on the individual. If you look at complementary systems you get things like growing communities," said Jefferies.
The long time Lyttelton resident is also part of a small 13 member group in the village that collectively save using the Swedish JAK member's bank model.
"We decide how much we can afford to put away and this is tagged and put into the pool. We've already made four or five different loans and unlike a traditional mortgage system, for example, when you get to the end of the loan period you'll get money back because you've been saving at the same time. You can either take the money or reinvest it.
"Money is leaking out of Lyttelton through banks back to Australia. We should be saving collectively and keeping it here where it's needed the most."
The challenge for Jefferies is that new ideas need credibility and acceptance before people will accept that they work.
"It takes a brave person with vision to try something new."