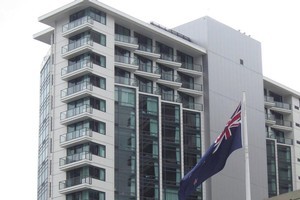 A big global hotel chain has pulled out of Wellington's $100 million Holiday Inn after a long-running dispute between management and investors who bought rooms there.
InterContinental Hotels Group said it would cease management and pull its name from the property.
Another hotel management business stepped in and also issued a statement.
Rydges announced it would now run the huge 280-room Featherston St hotel from March 10 and did not mention the fight.
InterContinental's statement cited problems at the property.
"Following failure of the hotel's ownership structure, IHG has been unable to reach an equitable commercial agreement with the new ownership. The inability to secure agreement from the new ownership to participate in the global Holiday Inn refresh program - a three-year, USD1 billion program of upgrading and re-launching Holiday Inn Hotels & Resorts worldwide - was also a contributing factor.
Holiday Inn Wellington has performed remarkably under IHG's management and branding since its opening in 2007, capturing sizeable share of international and domestic visitation to the Capital.
IHG's presence in Wellington remains through InterContinental Wellington, one of the country's best and most celebrated city hotels. Its accolades include being named New Zealand's Leading Business Hotel in 2007, 2009 and 2010, and as Australasia's Leading Business Hotel in 2007 and 2008, in the annual World Travel Awards. IHG's network of hotels across New Zealand has also been bolstered by the arrival of Holiday Inn Rotorua.
This latest addition provides IHG with a presence at each key destination on the main North and South Island touring route, including Auckland, Rotorua, Wellington, Christchurch and Queenstown," the business said.
Rydges also issued a statement saying it would rebrand the hotel Rydges Wellington. Investors in the hotel have battled to get rent they are owed by hotel managers Galway Tourism Investment Group.
Galway is part of Nigel McKenna's Melview group, which developed the hotel. The development company was placed in receivership and liquidation in November 2009.
McKenna has a defended bankruptcy hearing due in the High Court at Auckland this month.