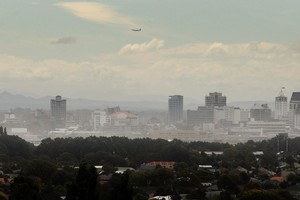 The Government's budget in May will show the cost of the Christchurch earthquake, Prime Minister John Key says.
"It just might have some deep streaks of red through it, unfortunately," he told reporters today.
"It's going to be a very important budget because it's about signalling the long but necessary process of rebuilding Christchurch."
Mr Key said it was too early to say whether the Government would have to borrow more money and he again indicated a taxpayer levy wasn't on his agenda.
"Advice from the Treasury is that a levy would be counter-productive," he said.
"If a levy slows the country down economically and we earn less revenue, we might be cutting off our nose to spite our face."
Mr Key confirmed the Government was going to look at the Working for Families scheme as it examined all its spending.
"I think New Zealanders generally would recognise that programmes like Working for Families are very appropriate for low and middle-income earners," he said.
"Whether they have as much relevance for higher income earners is something we need to consider, given we have reduced the top personal tax rate."
Earlier today Mr Key said the earthquake was expected to bite $5 billion out of tax revenue over four years.
In addition to that the financial assistance subsidies announced on Monday carried a $120 million bill and that was expected to rise.
Mr Key said early advice from Treasury was that in the year to this coming June it was possible there would be no growth in the economy because Canterbury would effectively be contracting.
"That has quite a big impact on your books - in the order of around $15b worth of lost GDP which translates to about $5b less of tax potentially (over four years)."
Mr Key said the economy last year suffered due to the September quake and he thought the first two quarters of this year would have been positive without the latest disaster.
Help coming for eastern suburbs
Meanwhile, Civil Defence national controller John Hamilton has assured residents of the hard-hit eastern suburbs everything possible was being done to help them, but his workers had been prioritising the most earthquake-damaged areas.
He asked for understanding from residents of some less badly hit areas that were not receiving the same amount of aid.
"It is a huge task."
Eighty six portaloos are going into Avonside and Dallington today and 120 more will be arriving on Friday. A shipment of 1200 portaloos is due by the weekend.
Generators that can service 200 houses at a time are being brought in to reconnect power in residential houses, he said.
There are now 200 building evaluation teams, 400 welfare staff and 50 search and rescue staff visiting homes in the area, he said.
He acknowledged the last nine days had been extremely difficult for residents, but said Civil Defence was working as quickly as it could.
"Many residents are without electricity, water or access to toilets. Transport is also difficult because of the damage done to roads. At the same time we are also dealing with an unprecedented urban search and rescue operation in the central city."
Undertaking building evaluations and providing portaloos and chemical toilets was the priority for Civil Defence teams, Mr Hamilton said.
Building evaluation inspectors will have finished assessing all priority areas in the Eastern Suburbs by the end of Saturday, he said.
Only red stickers, which indicate a property is heavily damaged and unsafe, are being issued.