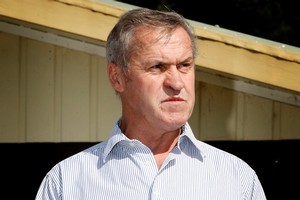 It will take more than 10 years to rebuild Christchurch, says acting Economic Development Minister David Carter
"It's a big project. Having said that I think we can get underway very quickly on some of the rebuild," Carter said.
Buildings that were safe had to be identified and opened and if needed a fairly aggressive approach taken to pulling down suspect neighbouring properties.
"Then once we've got the city safe you can let people back in and start the rebuilding process."
Carter was still getting to know his budget and what money was being spent on.
"I would think anything that I can then devote more towards a Christchurch rebuild and working with Gerry [Brownlee] to do that, that's the way we're going to get the greatest economic potential in the short term."
The first absolute focus was on rescuing people.
"The next stage has got to be significantly about getting the bodies back to the loved ones for those that have lost people and then we start the process of restoring confidence [and] rebuilding the city," Carter said.
"That's starting already and we were in the process of putting a budget together for May delivery.
"We've now got to acknowledge that there will be some reprioritisation having to occur to make sure we've got enough resources to pour into Christchurch."
Monday's Cabinet meeting had focused on an immediate survival package so that people had something to live on during the next few weeks.
"Next week will be significantly about what else do we need to be doing - this is going to take a while."
Business people were keen to get back into the city.
"Already I'm detecting a sense in Christchurch we now want to get back to 'normality'," he said.
There had been a focus on schools.
"I can say that from my own experience with young children who are at school, the quicker we can get them back to school, they get normality back into their lives but then it frees mum and dad to get back to their employment, if their job still exists."
Christchurch-born Carter has a sheep and beef farm in Teddington at the head of Lyttelton harbour and was in Wellington when the quake struck.
"You could see straight away [from photos in texts] that it was serious," he said.