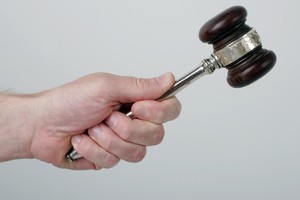 A fund for lawyers by lawyers that was set up after September's earthquake has been reactivated to support the legal community in Christchurch.
New Zealand Law Society acting regulatory general manager Mary Ollivier said the fund was set up for lawyers around the country who wanted to help their colleagues in Christchurch.
The fund is again being promoted within the legal industry in the wake of last week's quake.
Ollivier said the society wasn't sure how many lawyers had been displaced or how many had been affected but it was expected to be many.
She said many legal offices were central-based around the High and District Courts. Both have been shut until further notice and both are within the city's cordon.
"Lawyers do tend to congregate near the courts, based centrally, which has been badly affected. The fund is for lawyers who want to support lawyers, their colleagues."
Ollivier said lawyers seeking funds would have to apply to the trustees of the Canterbury Lawyers EQ Fund, and qualify under certain guidelines, although the criteria for funding had not been finalised.
Society vice-president for the South Island Anne Stevens said the fund had been designed to give affected lawyers some "respite" from the destruction the CBD has suffered.
"It's a means for people to help out."
The fund is a charitable fund that will focus on lawyers and their families facing hardship.
Lawyers wanting to donate money can do so at The No 2 account SBS Bank 03 1355 0561709 00.
John Woodward, Rachel Duningham and David Lang have been appointed the trustees of thefund.
Arrangements have been made to hear emergency court matters while the High and District Courts are closed.
Woodward said many of the large firms were hiring warehouses or finding alternative premises to set up shop in, so at least they could contact their clients.
He said there was money in the fund but until now nobody had claimed anything, though he expected that to change with this quake.
The Ministry of Justice confirmed last week that the judiciary and all court staff from both courts were safe.
The courts are inside the central zone that was cordoned off for search and rescue operations and for safety.
Interim arrangements were made to "support law and order" during the aftermath, this includes arrest courts, remand appearances, urgent Family Court applications and bail matters.
The ministry said it would temporarily use space at Christchurch Men's Prison as a base for the ministry's local response team.
Planning is also under way to use Rangiora as an interim centre for arrest courts and other essential court matters.