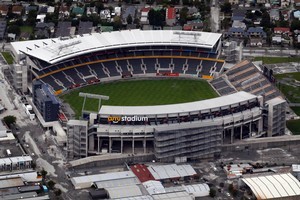 There is still a chance the Rugby World Cup will go ahead in Christchurch, Prime Minister John Key says.
Questions have been raised about whether the city will be able to host the event, given predictions that it may take months to get essential services up and running following last week's 6.3-magnitude quake.
"There's a series of different boxes that will need to be ticked before we can say yes or no," Mr Key said.
"My strong preference is to hold the Cup in Christchurch if we can because I think it sends a very strong international message that Christchurch is going through a rebuilding phase, and equally, if we don't, sadly the message is it's not."
Mr Key said the primary concern was ensuring the city's stadium was in the right condition to host games.
"That work is happening. If it doesn't pass that standard then obviously the cup has to be moved, if it does then we can work through the other logistical issues."
Finding accommodation for visiting rugby fans was among those issues.
"We've already made inquiries about cruise ships and that's entirely possible, and that's not a bad place to stay if you're the Barmy Army.
"Even if it costs a bit more, we might be prepared to accommodate that cost if it means holding the cup in Christchurch."
Mr Key said he expected the final decision to be made in months, not weeks.
- NZPA