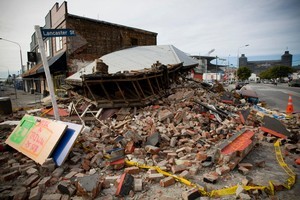 Some of New Zealand's largest infrastructure projects - including Auckland's downtown rail loop and the Puhoi "holiday highway" project - face delay or cancellation as money and resources are diverted to Christchurch.
Giving an initial indication of the effect of last week's quake on Government's finances, Finance Minister Bill English said "there could be issues around the timing" of infrastructure plans but in general the Government remained committed to the programme.
"You can expect a considered approach ... we won't change the recipe significantly but we are going to have to test the limits of it."
That could delay some projects on which work has started, and mean the axe for some projects such as Auckland's downtown rail loop which the Government has not yet accepted.
Mr English also suggested the Government was looking at the partial sale of state-owned power companies to free cash for Christchurch's recovery.
A Government source last night said Auckland's $2 billion rail loop now had only a remote chance of being built.
"That was a situation where the Government said it didn't have any money sitting around for that, and that's probably even more so now," the source said.
The Herald understands the quake will not affect the $1 billion electrification of Auckland's rail network or other passenger rail projects in Auckland or Wellington.
Asked whether proceeds from partial asset sales could be earmarked for Christchurch repairs, Mr English said they "would certainly help" if the sales went ahead.
"We've got some fairly big commitments we'd like to maintain, such as the ultra-fast broadband," he said.
"Equally, we're not sure yet of the Government's support for reconstruction in Christchurch ... that's something we'll be looking a pretty hard over the next couple of months.
"But in terms of the ability to fund infrastructure without going back to the financial markets, the mixed ownership model may turn out to be reasonably timely."
The Government wants to balance the requirement to help Christchurch's recovery while maintaining its commitment to invest in wider economic development.
"The strength of the economy is going to be an important part of the recovery for Christchurch," said the Government source.
It is thought May's Budget is likely to include money for repairs to Christchurch's water, sewerage and other civic infrastructure which local authorities may not have insurance cover or resources to finance.
The suggested halt on Auckland's long-sought rail tunnel project predictably rang alarm bells last night with city councillors.
Transport committee chairman Mike Lee said a recovering Canterbury and the country would not be served by having "a weak stagnating Auckland".
"Auckland must stay strong, Auckland must stay purposeful, Auckland must advance," he said.
"I think there is a compelling need to help Canterbury within our means, but that doesn't mean we down tools and stagnate.
"We have to keep marching on, but there has to be national leadership - I believe there has to be a national levy that every New Zealander, and not just Auckland, will pay.
Mr Lee said he was concerned that people might be using the Christchurch earthquake "to reinforce their own prejudices which we have seen on display for so many months" after the release of the business case and its compelling arguments for the rail link.
He was referring to the Government's reaction to a report for for KiwiRail and the former Auckland Regional Transport Authority which predicted that the 3.5km underground link from the western end of Britomart to Mt Eden would pay for itself three and a half times over in benefits to Auckland.
A team of consultants warned that without the link, a dead-end Britomart would be almost at capacity within three years, leaving virtually no room for extra rail services after the arrival of electric trains in 2013-14.
Ultimately, Auckland would choke on its traffic congestion, and doubleor even triple bus lanes would have to be built on each side of main roadsto have any hope of keeping people moving.
The rail tunnel remains Auckland Mayor Len Brown's top priority project.
He has gained cross-party political support for it within his council.
Mr Brown said last night: "I believe we all need to take a deep breath. Obviously the Christchurch earthquake will have an impact on the whole country, and Auckland supports looking at infrastructure priorities in a measured way.
"I have discussed this with the Minister of Transport and understand nothing has been ruled in or out. The first priority needs to be Christchurch's communities and we need to work together to decide on the best way forward while continuing to invest in the whole country."
Labour leader Phil Goff said Aucklanders had voted in a mayor who supported the rail loop.
The Government now had to demonstrate in an open and transparent way that the project deserved a lesser priority than other infrastructure plans, such as the Puhoi to Wellsford "holiday highway", which were going ahead.